Sushmita Sen reacts to Harnaaz Sandhu's gown with her face on it, calls it 'beautiful tribute'
Jan 20, 2023 02:57 PM IST
Sushmita Sen showed gratitude and poured love on Harnaaz Sandhu, Miss Universe 2021 for giving a 'beautiful tribute' to her. Harnaaz decked up in dreamy gown featuring pictures of Sushmita and Lara Datta's crowning moments.
Harnaaz Sandhu paid a incredible tribute to Miss Universe 1994 Sushmita Sen and Miss Universe 2000 Lara Dutta at the Miss Universe 2022 pageant. She wore a dreamy gown portraying pictures of Sushmita and Lara Datta's crowning moments. Sushmita, finally reacted to Harnaaz's tribute to her in a video. She expressed her gratitude and sent loads of love virtually. She said she would 'want to thank thank her in person.' (Also read: Lara Dutta reacts to Harnaaz Sandhu's Miss Universe gown with her face on it, calls her 'diamond')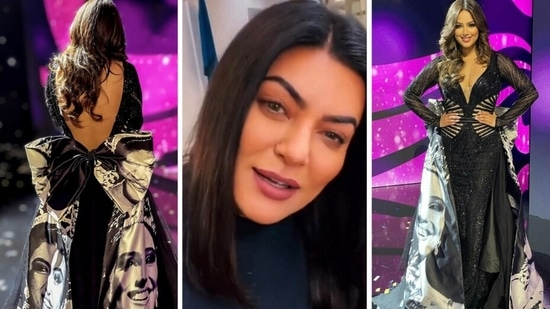 The official page of Pageant Aesthetics shared the video of Sushmita's reaction to Harnaaz's gown. In the clip, Sushmita can be heard saying, "Yes, I saw Harnaaz's gown, and I think this is a beautiful tribute and I'm waiting to give her a hug in person to thank her for it. But she carried with her on such important walk and moment. The legacy of her country and to see Lara and me there with her was like yes. So Harnaaz, if you are watching the tightest hug awaits you in person my darling. You made us proud. You continue to make us proud. Thank you for that." In the end, she gave a flying kiss to her and smiled.
Harnaaz recalled her Miss Universe journey and paid a tribute to Lara, and Sushmita at Miss Universe 2022 event and wrote on Instagram, "It's my purest honour and gratitude to represent my incredible country at Miss Universe. For my finale walk as reigning Miss Universe, I couldn't thank @officialsaishashinde and her team enough for making this dream gown come true! A huge tribute to these two incredible women from India you have been making our country proud since becoming Miss Universe. Sushmita Sen and Lara Dutta, I truly adore you both a lot…this one is for you and India."
Lara Dutta replied to her long emotional note, and commented, "May you always shine bright like the diamond you are!! Stay your humble, amazing , strong self sista!!! Here's looking at you kid!!!!! Good luck for all that's yet to come!" Earlier, Lara had wished her the best of luck for her journey ahead and wrote on Instagram Stories after the Miss Universe 2022 pageant, "Wishing Harnaaz Sandhu the brightest road ahead!! Am sure she's going to blaze her own individual, glorious path."