Lara Dutta reacts to Harnaaz Sandhu's Miss Universe gown with her face on it, calls her 'diamond'
Jan 18, 2023 04:25 PM IST
Harnaaz Sandhu paid a stylish tribute to Miss Universe 1994 Sushmita Sen and Miss Universe 2000 Lara Dutta at the Miss Universe 2022 pageant. Here's how Lara reacted to Harnaaz's latest post from the event, where she wore a gown with Sushmita and Lara's winning moments.
Harnaaz Sandhu, who was crowned Miss Universe in 2021, is only the third Indian woman to do so after Sushmita Sen and Lara Dutta were crowned winners in Miss Universe 1994 and Miss Universe 2000, respectively. On Wednesday, the former Miss Universe took to Instagram to share her photos from the recent Miss Universe 2022 pageant, where she crowned the new Miss Universe, R'Bonney Gabriel. Also read: Harnaaz Sandhu poses with Priyanka Chopra at Global Citizen Festival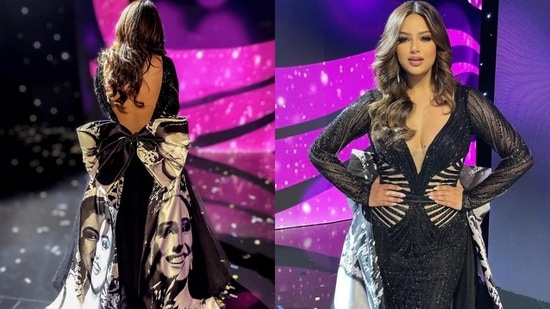 At the event, Harnaaz grabbed attention with her black gown, which featured photos of the winning moments of the only other Miss Universe crown holders from India – Sushmita Sen and Lara Dutta. Giving a better look at her special outfit from Miss Universe 2022, Harnaaz wrote an emotional note as she recalled her Miss Universe journey and paid a tribute to the two 'incredible women' from India, who inspired her 'dream gown' at the event.
In her Instagram caption, Harnaaz Sandhu wrote, "It's my purest honour and gratitude to represent my incredible country at Miss Universe. For my finale walk as reigning Miss Universe, I couldn't thank @officialsaishashinde and her team enough for making this dream gown come true! A huge tribute to these two incredible women from India you have been making our country proud since becoming Miss Universe. Sushmita Sen and Lara Dutta, I truly adore you both a lot…this one is for you and India."
Appreciating her gesture, Lara commented on Harnaaz's post, "May you always shine bright like the diamond you are!! Stay your humble, amazing , strong self sista!!! Here's looking at you kid!!!!! Good luck for all that's yet to come!" Earlier, Lara had wished her the best of luck for her journey ahead and wrote on Instagram Stories after the Miss Universe 2022 pageant, "Wishing Harnaaz Sandhu the brightest road ahead!! Am sure she's going to blaze her own individual, glorious path."
At the recent pageant, which was held in New Orleans, Louisiana, in the US, Harnaaz Sandhu had gotten emotional as she gave her final walk on the Miss Universe stage as the reigning Miss Universe. She had tripped on stage as she walked up in front of a cheering crowd, with many social media users praising her for finishing her walk with grace.