Watch Parineeti Chopra mimic Saina Nehwal's moves to perfection, train hard for biopic
Published on Mar 27, 2021 10:27 AM IST
Actor Parineeti Chopra shared a bunch of pictures and videos showing her training for the recently released Saina. See them here.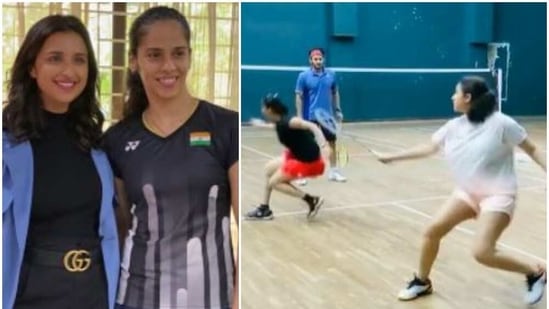 Parineeti Chopra has been winning praise for her work in the recently released sports drama, Saina. The actor on Friday dropped some behind-the-scenes pictures and videos showing her gruelling training sessions and other shoot photos.
Sharing the first lot of pictures and videos, Parineeti wrote, "Photo dump .. #SAINA The journey over 2 years." The first of the lot is a video showing Parineeti copying the moves of her coach. They seem to be playing a mock game.
Another picture shows Parineeti, sitting on a badminton court, exhausted after practice. In yet another picture, she is seen posing with Saina Nehwal.
She shared a second lot of pictures and wrote: "Photo dump 2. #SAINA." One of the pictures shows a moment from the film's shoot, while others are shots from the film itself.
Among the stars who complimented Parineeti for her work was actor Raveena Tandon. She wrote: "Just had the pleasure of seeing #saina !What a fantastically made movie ! Fantastic performances by lil Saina- played by a real junior champion #naishakaurbatwe , and ofcourse @ParineetiChopra you did us proud ! Effortlessly played! @NSaina a must watch for our children!"
Parineeti's cousin Priyanka Chopra had a word of praise for her too, even before the film had released. Priyanka had written: "Super proud @ParineetiChopra cannot wait to watch!!"
Also read: Step inside Shah Rukh Khan's Red Chillies office with a 'masculine and minimalistic theme' designed by Gauri Khan
Writing about Saina, the Hindustan Times review said: "Unlike the sports biopics made on the Phogat sisters (Dangal), Mary Kom and MS Dhoni: The Untold Story, what Saina lacks is the 'wow' factor. It's a simple story told in a simpler way. Her journey may have been uncontroversial, but even the parts that could have been fleshed out were ignored."
Personalise your news feed. Follow trending topics