Jackie Chan sent Michelle Yeoh congrats text after Everything Everywhere All At Once, says directors went to him first
Feb 05, 2023 01:58 PM IST
Actor Michelle Yeoh, nominated for Best Actress Oscar, revealed that Jackie Chan texted her a congratulations message after Everything Everywhere All At Once and shared that the directors came to see him first. She thanked him for turning down the role.
Originally, Jackie Chan was meant to star in the genre-bending film Everything Everywhere All at Once directed by Daniel Kwan and Daniel Scheinert. Starring Michelle Yeoh, Stephanie Hsu, Ke Huy Quan, and Jamie Lee Curtis, the film is up for 11 nominations at the 95th Academy Awards. Michelle, who is the first Asian actress to receive a Best Actress Oscar nomination, shared that she received a text from Jackie, telling her congratulations after the film. He also shared that the directors, nicknamed the Daniels, had come to see him first. She thanked him for not taking on the part. (Also read: Michelle Yeoh says she wants that Oscar, but doesn't need it: 'Give it to me')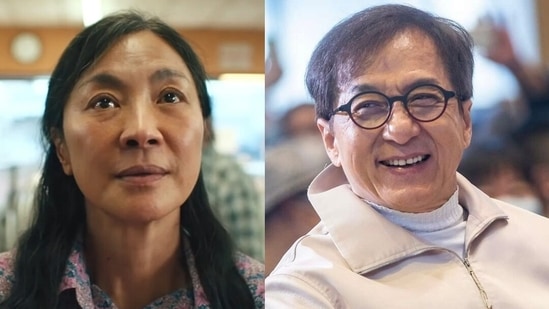 In the film, Michelle plays a Chinese-American immigrant, Evelyn, who owns a laundromat with her husband Waymond (Ke Huy Quan). While the couple is being audited by the Internal Revenue Service, she finds herself sucked into a parallel universe where she must go up against the powerful Jobu Tupaki (Stephanie) in order to save her world from collapsing.
In an interview with CNN's Christiane Amanpour, the actor shared, "[My role] was written for a man when the Daniels set out to do this. I think whenever filmmakers tell a story, they also have to be mindful. It is show business. 'I also have to write something that somebody will make it into a film.' So, they wrote it that way, that they will make it into a film.' So, they wrote it like that way, with Jackie, and me as the wife, so it was completely, the role was reversed."
She later recalled, "I remember Jackie texting me and saying, 'Congratulations! You know, did you realize that your boys came to see me first?' And I'm like, 'Thank you, bro, you did me a huge favor!'" The veteran actor, known for her action roles, also told Christiane that it is always the man who gets to go on the adventures in films. She wanted to do the same in her career as well.
Michelle also attributed the success of the film to the writer-director duo, the Daniels. She said that they were not afraid of strong women and were inspired by their mothers and partners to make Everything Everywhere All at Once. Her character Evelyn is an ordinary woman who is given a role to play as a superhero.