Broker movie review: Kore-eda Hirokazu's Korean drama assembles an oddball 'family' that rallies around a baby
Jan 19, 2023 06:35 PM IST
Broker movie review: Kore-eda Hirokazu's Cannes winner is an affecting Korean drama that assembles an oddball 'family' to rally around a soon-to-be abandoned baby. The film stars actors Song Kang-ho, Gang Dong-won, Doona Bae and Lee Ji-eun aka IU.
Kore-eda Hirokazu once again explores the meaning of family in his latest Korean drama Broker. The feature, starring Song Kang-ho, Gang Dong-won, Doona Bae, Lee Ji-eun aka IU and Lee Joo-young, won two awards at last year's Cannes Film Festival, the Ecumenical Jury Award and the Best Actor Award for Song Kang-ho. Broker centers itself around a young woman who gives up her baby and finds herself tagging along with the two brokers who want to sell the child to a rich couple to raise it. (Also read: Cannes full list of winners: Sweden's Triangle of Sadness wins Palme d'Or, India's All that Breathes is best documentary)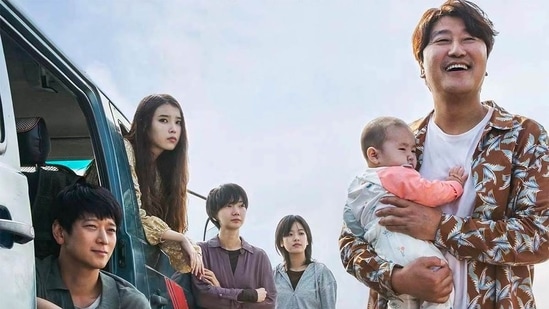 This is the Japanese filmmaker's second feature not in his native language after the 2019 drama The Truth (La Vérité) in French. Using a South Korean cast, the moving drama puts together an odd group that rally around the welfare of a baby. The result is an affecting piece that manages to tug at the heartstrings. Lee Ji-eun plays the young mother Moon So-young who believes she's dropping her baby Woo-sung off at a Busan family church, only to find him in the hands of two brokers.
Parasite star Song Kang-ho and Gang Dong-won as the brokers convince her to tag along with them to make the exchange. But as anyone can predict, fate has something else on hand for them, especially as two female police officers lie in wait, hoping to catch them in the act. And while the characters slowly form themselves into a makeshift family, where they each look out for another, you helplessly watch, knowing that a happy ending won't be possible for them all.
Kore-eda has been examining these familial bonds between strangers in his previous films from Like Father, Like Son (2013) to Shoplifters (2018). In each of these award-winning features, the filmmaker shows again how blood is not the only factor that ties families together. It's those who care for you and have your back when the chips are down that end up defining family in them.
In Broker, it is no different. Each of the main characters have fractured relationships with their families. A few of them are actual orphans, with residual feelings of resentment towards their parents who abandoned them. As the film progresses, the characters spend more time together travelling from city to city to find suitable parents for Woo-sung. Slowly, they open up to one another after Gang Dong-won's character Dong-soo genially proclaims, "This car is filled with liars."
But even as they have the best intentions at heart for another, there are larger real-life problems looming for them, involving murder and debt, that may not be as easy to get by. The cast, especially standouts Song Kang-ho and Lee Ji-eun, nail the emotional scenes. Even Im Seung-soo who plays the young orphan Hae-jin and the baby Woo-sung manage to leave their mark.
Broker also questions some larger issues about adoption and orphanages, with a little bit of dark humour and plenty of honesty. There are no easy answers for many of them. But the Korean film's devastating ending will take some time to process. In a way, it reminded me of another Korean film Parasite (2019) in which certain characters' arcs end in uncertainty. The film is sentimental in that it allows some characters to heal, but also heartbreaking where it leaves others. If you've enjoyed Kore-eda Hirokazu's previous works, don't miss out on this latest nuanced drama.
Topics