Anupamaa written update August 9: Anuj and Vanraj fall off a cliff in mysterious accident
Aug 09, 2022 08:15 PM IST
Anupamaa written update August 9: Anuj and Vanraj fall off a cliff in a mysterious accident. Kavya witnessed the incident but is in shock.
In this episode of Anupamaa, everyone gets shattered after hearing the dreadful news of Anuj and Vanraj's accident. Anupamaa sees her life collapsing in front of her as she waits for the two to be rescued after arriving at the site of the accident. Read this article to know more. Also Read| Anupamaa written update Aug 8: Vanraj plans dangerous revenge on Anuj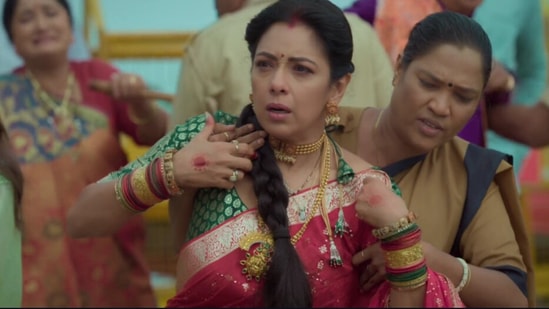 Anupamaa gets a shocking news
In the previous episode, we saw Anuj leaving with Vanraj who waits for him angrily in his car. Anupamaa gets anxious over how Vanraj would behave with Anuj. However, she would be traumatised after knowing that it wasn't only Vanraj who was planning to harm Anuj. The problems waiting for Anupamaa in the near future are much bigger than Vanraj's anger and ego. Keep reading HT highlights to find out the real conspiracy behind Anuj's accident.
As Anuj leaves to meet Vanraj, Anupamaa returns to pooja and continues the rituals. When everyone enquires her about Anuj's whereabouts, she seems lost and is not able to respond. Meanwhile, Kavya notices Anuj leaving with Vanraj and follows them. Later, Anupamaa receives a call from an unknown number, and Samar answers. It's the Gujarat police on the other side who are calling to inform them about an accident in which two people have fallen off the cliff. Anupama collapses as they reveal that the two men who have fallen are her husband Anuj and ex-husband Vanraj. Continue reading to find out what happens next.
Anuj is taken to the hospital
The Shah and the Kapadia family rush to the site of the accident, only to find that the rescue operation is still going on. There seems to be no sign of Anuj and Vanraj so far. What's more surprising is that when the entire family is worried for Anuj, Adhik is missing in action. Ankush also looks for him and realises that he had suspiciously disappeared from the temple itself. More importantly, everyone comes to notice that the car in which Anuj and Vanraj came to the spot is intact and only the two of them have fallen down. How did the accident happen? Where is Adhik? Keep reading the upcoming updates for all answers.
In the episode, it is not revealed whether Anuj and Vanraj have survived the accident or not. However, it has been made clear that both of them are severely injured. Police also inform the families that Kavya witnessed the entire incident and informed them about her husband and Anuj's accident. The entire family throws a chain of questions at her and demands the answers. Kavya remains numb and appears to be in shock over the recent incidents.
Meanwhile, the ambulance arrives as the rescue team has found two people. Fortunately, both Anuj and Vanraj are breathing but their condition is extremely critical. The families all head to the nearest hospital where the two survivors are taken into the emergency for immediate operations.
In the next episode, find out what exactly happens with Anuj and Vanraj; and how they ended up falling off the cliff as Kavya tries to recall the incidents before their fight. Anupama will get more upsetting news regarding Anuj's condition. Keep watching this space for more news.