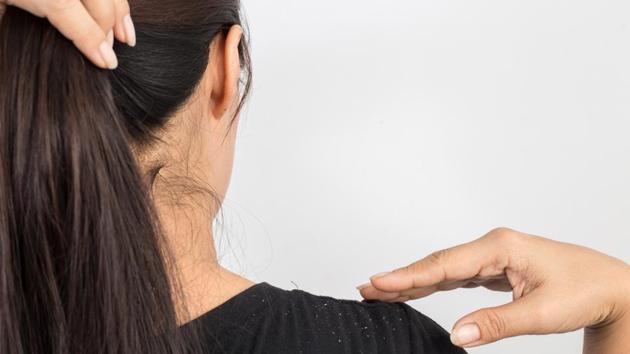 Don't let dandruff damage your image. Use these quick home remedies
Here are quick home remedies that will ensure that dandruff dies a natural death and leaves your scalp clean.
UPDATED ON APR 13, 2017 06:23 PM IST
One major hair problem that we face, in winter, is dandruff. It is extremely embarrassing when there are white flakes on the shoulders. But did you know that apart from the blow to vanity, dandruff has many more health consequences? Pimples begin to appear near your hair line on the forehead or below or neck because of these clogged follicles and white particles. However, there are easy home remedies that can help you fight this menace. Read on...
Tomato: This is best for oily hair. Take a ripe tomato remove the seeds and mash it into a pulp. Add a spoon of fuller earth powder (Multani Mitti) in it. Add just the pulp and not the watery tomato juice. Apply this pack well and massage your scalp with the peels, as it will help improve blood circulation and restrict dandruff. Wait for 30 minutes until it dries and then wash off with cold water.
Yogurt: Dandruff is the result of accumulated dead skin layers, and yogurt has an anti-fungal property, which prevents this scaling of the scalp. Take a cup of yogurt and add a pinch of black pepper powder in it. After mixing the two ingredients well you can apply it over your scalp and hair. Wash after 30 minutes.
Fenugreek seeds: Soak the fenugreek seeds overnight and then grind it into a paste. Apply this on your scalp, keep it for 45 minutes, and then wash it off with a shampoo.
Aloe Vera: Aloe vera gel is one of the best cures for oily scalp. Just extract the gel from the plant and apply it well. The anti-bacterial property of the aloe vera gel will remove fungus.
Gram flour: Add 2 spoons of gram flour and mix with half cup curd in a bowl. Mix it well and apply on your scalp. Let it stay for 20 minutes and then wash it off.
Lemon: Squeeze a lemon in a bowl and add honey to it. Now apply this with a slice of lemon on your scalp. The citric acid in lemon removes dandruff, while honey moisturises your hair.
Oils: If you have dry scalp and dandruff, apply hot oil, extra virgin olive oil or coconut oil. This will moisturise your scalp and avoid scrapping of dead skin. Do this once a week.
Close