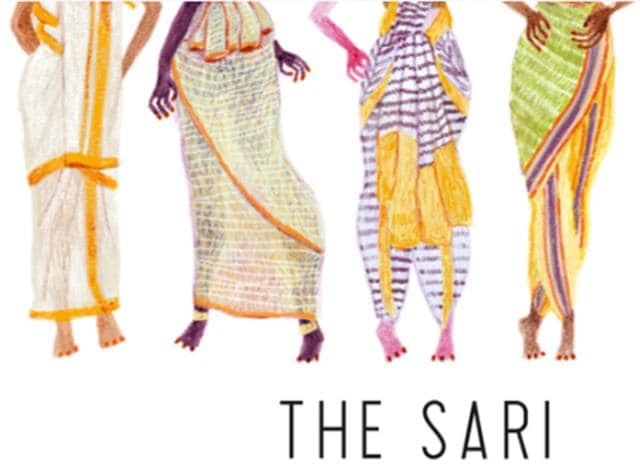 How to revive the sari – a dream, some crowdfunding and 84 easy steps
A Bangalore woman's Kickstarter project just raised Rs 23 lakh to document 84 ways of wearing the sari
UPDATED ON NOV 22, 2016 04:44 PM IST
Wrap some of the six yards around your hips. Tuck them tightly into your petticoat waist. Tuck a few pleated inches into the front of your midsection so it falls neatly to your feet. Drape the rest around you one last time to let the end cover your bosom before falling over your shoulder.
You've just mastered the Nivi, India's most popular sari-draping style. But don't stop there. By the first half of next year, if Malika Verma Kashyap's dream goes as planned, you'll be able to discover and master 83 more styles from different regions and communities across the subcontinent through short, chic instructional videos. Who knows, you might just end up freeing the sari from its tightly pleated, boxed-in urban avatar.
Bangalore-based Kashyap, who runs Border&Fall, an online platform for crafts, successfully raised more than 47,000 Canadian dollars on crowdfunding website Kickstarter last week, to build the first digital anthology on the sari. The videos will cover variations across India and instructions on how to wear them. "About 98% of respondents in our site's survey think there are not more than 15 ways to wear a sari," she says. "We want to help change that."
Watch sari expert and textile historian Rta Kapur Chisti talk about India's sari traditions
Pleats please
Kashyap says it's understandable that the sari is now increasingly relegated to occasion wear in cities. "It's only fair to account for the fact that trends keep changing; the anarkali was popular a while ago, kurtas had their moment," she says. "It also has to do with what is considered aspirational. Young women tend not to share the sartorial choices of their mothers, and the dressing culture of many offices also favours the sari less."
The Nivi drape itself started off as a fashion trend. By the early 1900s, the style that originated in Andhra Pradesh was already popularised across India after Raja Ravi Varma's imagery depicted women and goddesses in the flowy, over-the-shoulder style. As Indian aristocrats and educated classes opened up to socialising with the British, many Indian women found that their regional sari styles – which exposed the shoulders, midriff , legs or back – were out of place. Then, on a trip to Bombay, Jnanadanandini Devi, the wife of Rabindranath Tagore's brother Satyendranath, took her cue from Parsi women. She added a shirt-like blouse and skirt-like petticoat to the garment, pulling the pallu over the left shoulder to leave the right hand free. Society women quickly adopted the more comfortable style.
Read: A twist on the sari blouse and new ways to wear it
Border&Fall's videos draw from a bank of more than 100 styles documented in Martand Singh and Rta Kapur Chisti's lavish, definitive 2010 book, Saris of India, and other books. "We wanted to stay true to the regional drapes, For styles that had only minor variations we've focused on keeping the base drape," says Kashyap. Chisti, who runs a 'sari school' on the drapes, weaves and history of the garment, and is on the project's advisory board, adds that the videos are a great way to loosen up India's perception of the garment. "The sari was not constructed to be worn in just one way," she says. "In urban areas particularly, only one style dominates, so women who don't want to wear it end up not wearing saris at all."
The longest yard
Philanthropy for this kind of a project is difficult, Kashyap admits. "Many larger institutions in India had trouble understanding that there are no immediate quantifiable metrics to measure the impact of a project like this," she says. They took to crowdfunding to allow the larger public to engage with the project. Money trickled in from 405 donors from around the world, 85% of the amount was raised outside India, largely from Canada, where Kashyap was raised, and the US. One Indian donor will match the final sum of CAD 47,000, giving Border&Fall close to Rs 50 lakh to get started.
Paris resident Olivier Gillet, who designs and engineers instruments for electronic musicians and has been visiting the Border&Fall site for more than two years, pitched in with CAD 1,500 (Rs 75,500), 'simply out of curiosity'. "I find the concept of handloom textiles both terribly archaic and futuristic. I think about a post-scarcity world – what will we do with our hands, what will we consider rare, what will have meaning? Maybe there's something to be learnt from hand-woven cloth," he says. The idea of a well-organised archive appealed to him too. "Documenting sari drapes as a series of videos seems obvious, but as far as I know it's never been done before. I really wanted the team to succeed."
Read: Sari styles in fashion and Bollywood
Gillet's contribution entitles him to a reward from Border&Fall – a sari from the design house Raw Mango, which he plans to give to his partner.
Going with the flow
The money will also fund three independent films, made by Vietnamese-origin Bon Duke, Delhi-based Pooja Kaul and Benglai filmmaker Q, which aim to document the garment's past, present and future. They'll be shot in February and released free across social media and on the Border&Fall website.
Kashyap hopes the project will get Indian women to see that the sari is relevant, varied and adaptable to the 21st century. "Some fashion designers have been championing the diversity of its drape, but mass retail, even e-commerce, reinforces the static Nivi drape - pleats in front and palav over the left shoulder ," she says.
When Border&Fall posted images of four unusual sari drapes on its Instagram recently, it prompted one Indian woman to comment that they were insulting the national garment. "Everyone is protective of it," Kashyap says. "But they need to see its other drapes are representative of India as well."
Close