In pics: Kim to Taylor, metallic ensembles ruled Met Gala red carpet
Metallic ensembles ruled the red carpet at the Met Gala in New York this year, as celebrities went all out to follow the theme that revolved around fashion and technology.
fashion-and-trends
Updated: May 03, 2016 20:44 IST
One of America's most popular fashion nights, the Met Gala is never devoid of drama and glamour. The annual fund-raiser is hosted by the Metropolitan Museum of Art, New York, USA, to raise capital for its fashion curation department.
Read: Best Met Gala looks of all time, most avant-garde to most talked-about
This time, too, celebrities at the grand event left no stone unturned to walk down the red carpet in their interpretations of this year's theme — "Manus x Machina: Fashion in an Age of Technology". For instance, Kim Kardashian West sported a metallic beaded dress with a slit that reached her thigh (relatively subtle as compared to her previous outings here), and Madonna's ensemble was all about metal accessories.
Read: Met Gala 2016 pictures, the good, the okay, the horrifying
However, some celebrities stayed away from literally following the theme. Kate Hudson was in a strapless white wispy number with bold cut-outs, and Zoe Saldana went for a peacock-inspired gown, the feathery detailing of which was impossible to ignore.
Here, we take a look at 10 celebrities who stood out for their sartorial choices.
1 Beyoncé Knowles: After opting for an extremely racy outfit last year, Beyoncé took things a little easy this time around. She chose a sober body-skimming latex Givenchy dress that accentuated her curves.
2 Taylor Swift: Her edgy futuristic look was a departure from her usual feminine outings. But the singer pulled off with ease the short Louis Vuitton snakeskin dress with oblique cut-outs.
3 Madonna: She has never been afraid of trying out-of-the-box and highly imaginative looks. This time, she turned up in an uninhibited Givenchy number that left little to the imagination, with cut-outs for her breasts and derriere.
4 Nicole Kidman: Kidman dazzled in her black Alexander McQueen gown that was generously embellished with gems. The actor also added drama to her ensemble by opting for a cape.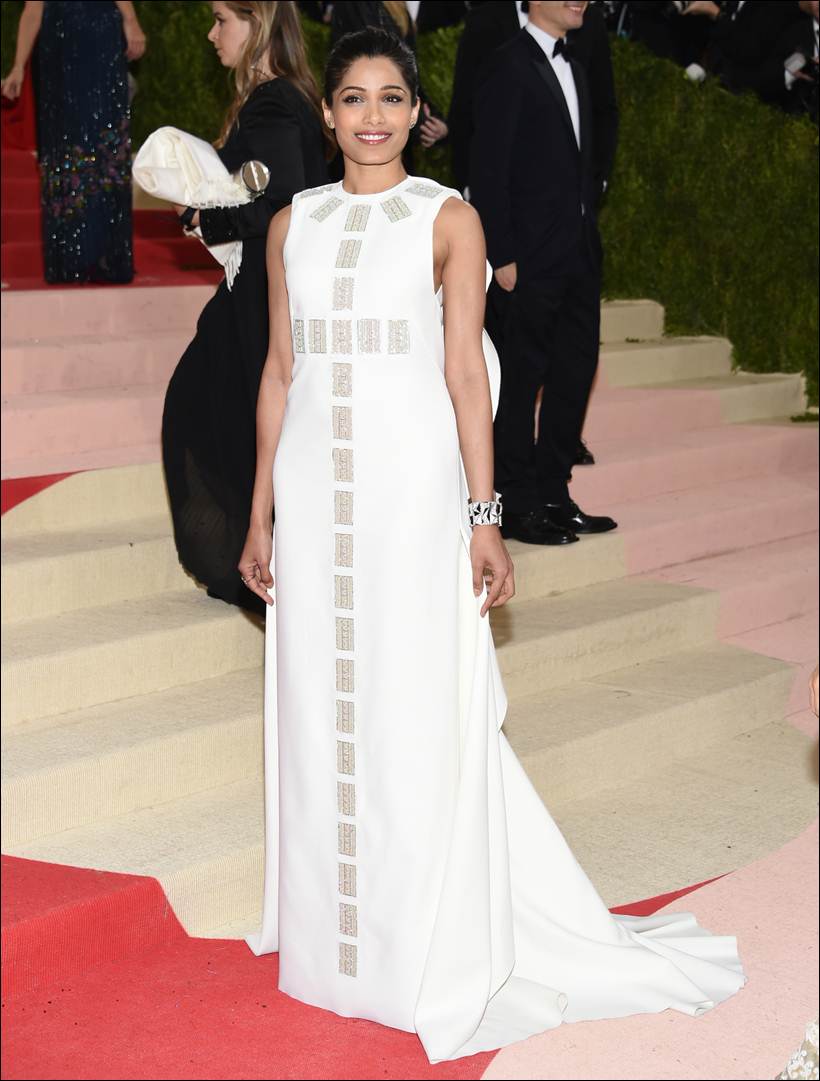 5 Freida Pinto: Pinto didn't take the over-the-top route, and made a classy entry in a white Swarovski crystal-panelled Tory Burch gown. Though the understated look lacked drama, it surely was the most elegant choice at the event.
6 Katy Perry: There was nothing understated about Perry's black and gold Prada train gown. Cinched at the waist and accompanied by black leather gloves, the ensemble had chains, brass keys and locks for detailing.
7 Kim Kardashian West: Widely known for her risqué outfits, Kardashian West was in a different mood this year. Dressed in a cool silver metallic gown by Balmain, the reality star turned up in, perhaps, one of her simplest numbers at the Met Gala so far.
8 Lady Gaga: The 'queen of bizarre' turned up in a metallic bomber jacket thrown over an Atelier Versace corset. The singer added more drama to her look by pairing her ensemble with fishnet stockings and vertigo-inducing platform boots.
9 Lupita Nyong'o: The Oscar-winning Hollywood actor often makes an impression on the red carpet. This time, Nyong'o donned a stunning green metallic Calvin Klein gown. While her outfit was glamorous and form-flattering, her updo, a gravity-defying four-level bun, really took the cake.
10 Rita Ora: In a muted grey tone, Ora made heads turn with this Vera Wang feathery train gown. The daring number was strategically attached to a revealing halter-neck panel that ensured a generous amount of skin show.
Thank you for subscribing to our daily newsletter.