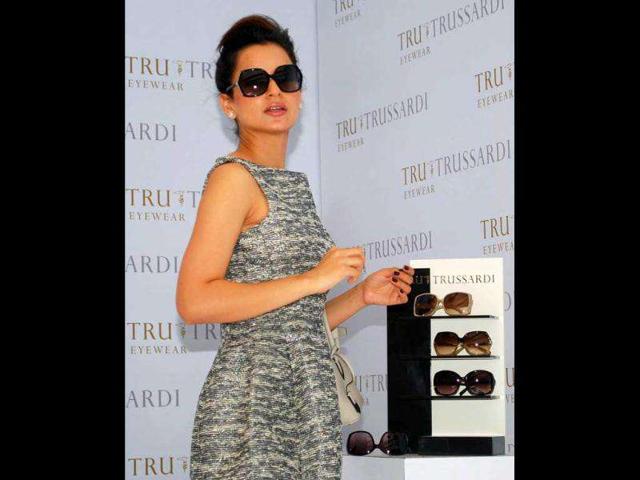 Kangana Ranaut, style chameleon
Kangana Ranaut loves her "evil" eyebrows, won't ever wear a frilly frock again, and admits she's bored to death by her contemporaries' style. The actor's wardrobe changes are so detailed and unpredictable, it's often difficult to recognise her from a photo.
Hindustan Times | By Rochelle Pinto
, Mumbai
UPDATED ON MAR 03, 2012 06:37 PM IST
Kangana Ranaut is Bollywood's true style chameleon. The actor's wardrobe changes are so detailed and unpredictable, it's often difficult to recognise her from a photo.
But the young star insists she can't take all the credit. "It's just that everybody around me is so boring," she protests cheekily, adding, "There are contemporary actresses who haven't changed their style ever since I was a kid. It's so sad to be stuck in time."
She admits that she draws inspiration from modern fashion icons like Lady Gaga and the Material Girl, saying, "Even at this age, Madonna is so outrageous. Whereas when I see the way people dress here, it makes me yawn."
Ask the bold sartorialist if she's ever regretted an ensemble, and she says, "The Barbie doll look is something that doesn't work for me. I may have worn frilly frocks with a hairband in the past, and it was a big disaster."
Kangana's latest obsession is androgyny. "It excites me," she admits, adding, "I like when you can't really figure out whether it's a boy or a girl. So I make my eyebrows really strong and avoid using girliie things like blush and pink lipstick. I call it my evil look."
She turned up on a red carpet sporting a headband and '60s bohemian locks, and the photo was splashed across fashion blogs and newspapers the next day. Kangana concedes that she's fascinated by accessories, saying, "Headbands and hats are something I would naturally wear. I wear them even when I'm travelling."
The actor's curly mane is one of her biggest assets, and she's not afraid to experiment. Ask which hairstyle is her personal favourite, and she responds, "Thanks to my face, I can carry off anything. But the hairstyle should do justice to the dress. I respect the designer who's put so much effort into creating the garment, so if it demands curly hair or straightened hair, I won't argue."
Another look that sparked off a thousand comments was the Frieda Kahlo-inspired ghagra-choli she wore to the Riteish-Genelia wedding. She reveals, "I'm a big fan of designer Sabyasachi, so I can't take credit for the clothes. But I did the hair and make-up myself. I'm very comfortable styling myself, because I've had so much experience doing it at photo shoots."
Taking cues from her retro look in Once Upon A Time In Mumbaai, Kangana routinely experiments with variations on the classic 'beehive and Jackie O sunglasses' that her character sported. Here, she wears it with a little Fonzie quiff.Kangana's early look was heavy on the make-up and light on fabric.
Close