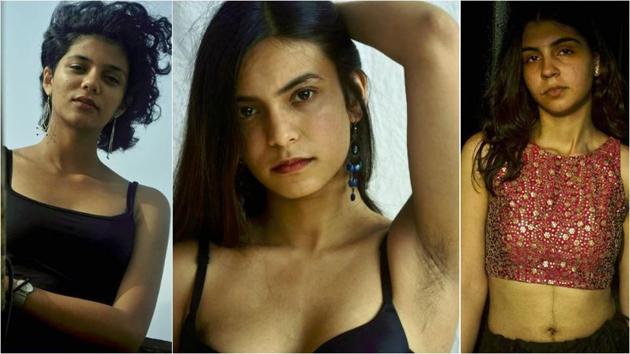 Real bodies, raw looks. Brown Girl Gazin's Instagram asks you to be happy with your body
Instagram handle Brown Girl Gazin is on a total body positivity mission, featuring women of all sizes, colours and ages with acne, rough skin, uneven skin, moles, scars, bruises, hair, cellulite, stretch marks and so forth.
UPDATED ON JUL 10, 2018 12:42 PM IST
We can't think of a woman who wouldn't relate to Brown Girl Gazin, a body-positive Instagram handle questioning how unrealistic the notion of body perfection really is. Are there nude women on it? Absolutely. But the point isn't pornography.
Mumbai-based founder Anushka Kelkar started the page in March to make women feel comfortable with how they look. The simple way she does it: By showing real bodies instead of the photoshopped, idealised versions we so often see on social media.
+ +
One girl, who posed for the page writes, "My family is very strict about clothing and until recently, the last time I wore something with short sleeved was when I was around 8. I had internalized that my arms were too fat for anything that didn't cover them... It took me a trip to Goa with my girlfriends to realise that I can look nice in sleeveless as well. They threw clothes at me and said "try 'em on gurl!" After that trip, I went and bought myself my first spaghetti top. I know it sounds petty, but it took a lot of confidence that I realised I was depriving myself of all along."
+ +
Another one posts, "To talk about 'real women' you need to acknowledge what 'real women' can have on their bodies: acne, rough skin, uneven skin, moles, scars, bruises, hair, cellulite, stretch marks and so forth. it's taken me a while to realize that none of that makes me look 'ugly'."
If you've always taken interest in things that challenge the norm, good news. Every single post on Brown Girl Gazin is a wake-up call. Each woman and her story drive home the same message: Women all around us are insanely beautiful and it's really time to direct some of that love back at themselves.
+ +
While some of the images on Brown Girl Gazin might make readers blush (there are a lot of bras, hairy underarms, belly buttons, after all), the point of these pictures is to show what bodies look like in all shapes and sizes, exactly as they are. No Photoshop. No filter.
Take a look at some of the photos below of real women who embraced their bodies in an effort to help others, in turn, accept themselves.
+ + + + + + + + + + + +
Follow @htlifeandstyle for more
Close