FIFA U-17 World Cup: Jadon Sancho adds to England's attacking options
Updated on Oct 04, 2017 10:54 PM IST
Jadon Sancho adds considerable firepower to the England U-17 national football team, but his availability beyond the group stages of the FIFA U-17 World Cup remains unlikely.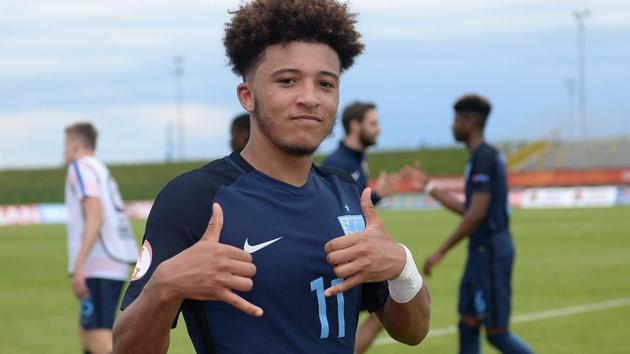 Jadon Sancho reached city on Tuesday and trained with the England U-17 national football squad here on Wednesday.
The Borussia Dortmund player will be available for England's games in Group F. Asked about the possibility of Sancho staying for the knockout rounds, England's media manager Amy Heart said "as of now we are not looking beyond the group stage."
Along with Sancho, England have players such as Angelo Gomes, Rhian Brewster and Phil Foden who have senior team experience with clubs such as Manchester United, Manchester City and Liverpool.
Foden has even been praised by Pep Guardiola, his senior team coach.
But if that has got Chile worried, they are not showing it. "They are good players but we are equal to them," said Chile forward Diego Valencia.
Chile play England in Sunday's first match which has a 5pm kickoff.
England are particularly sharp on the flanks, said William Gama, who like Valencia is an attacking player and rates Bayern Munich's Arturo Vidal as his favourite.
Weathering the heat
England reached Mumbai last week in a bid to come to terms with the weather.
Chile reached Kolkata on Sunday and have spoken about the weather after every training session. "Yes, the conditions are really difficult but we are confident we will be able to adapt," said Gama.