Grey no more: Tips and tricks to deal with premature greying of hair
Hindustan Times |
, New Delhi
Idrees Bukhtiyar
Feb 11, 2018 02:53 PM IST
Is prematurely grey hair bothering you? From genetic issues and dietary deficiencies to environmental pollution, experts list a few possible causes along with ways to effectively deal with grey hair.
Over the years, premature greying of hair has become a cause of concern for young people. It's not uncommon anymore to see people in their early 20s with a mop of grey on their head. While greying of hair is caused when your hair follicles cease to produce melanin — the pigment that gives hair its colour, the reasons for the early onset of this remains a major worry for most.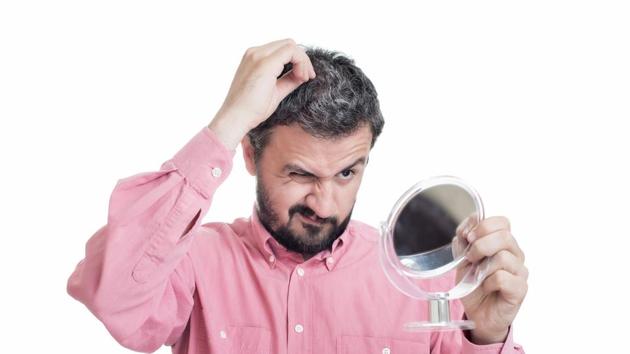 We got in touch with dermatologist Dr Suruchi Puri and beauty experts Swati Sawadh and Seema Malik, who explain the causes of premature greying and provide a few pointers on how to deal with it.
Stay tuned with breaking news on HT Channel on Facebook.
Join Now
What causes it?
Genetic trait
One of the most common reasons for having grey hair in your early 20s, is because of your genes. In such cases, it is extremely difficult to do anything about it.
Dietary deficiencies
Deficiency of vitamin B, zinc, and copper also causes early appearance of grey hair. This is because these nutrients assist the metabolic process involved in giving hair its natural colour.
Environmental pollution
The daily pollution that we encounter makes our hair strands weak. With time, this also leads to grey hair.
Smoking
Smoking leads to free radicals being formed in the body. These free radicals cause oxidative stress, leading to decreased melanin, which promotes greying of hair.
Stress
Hypertension, stress, and anxiety are leading causes of premature greying of hair. The hair you lose due to a stressful event, such as chemotherapy, may grow back grey.
How to deal with it?
*Massage your hair with any oil of your choice. Then wash it with a mixture of 2 tsp shikakai powder, 1/2 tsp reetha, and 1/2 tsp amla powder with water.
*Curry leaves and henna leaves also help in dealing with greying of hair. You can make a paste of these leaves along with your favourite hair oil. This mixture works as an anti-aging mask for your hair.
*Use almond oil to massage your hair, as it is rich in proteins and vitamin E, which are important for hair health.
*Do not use harsh shampoos. Switch to mild shampoos instead, or better yet, organic shampoos. The harsh chemicals in shampoos and conditioners are known to affect hair follicles, causing hair fall and greying.
*Brew 5-6 tsp of black tea leaves in hot water and when it cools, mix it with your regular hair conditioner. Apply it on your hair and leave it on for 1-2 hours to cover grey hair.
*Make sure that your diet contains sufficient amount of green vegetables. Increase the consumption of spinach, celery, capsicum, cabbage, cucumber, and other green leafy vegetables.
*Increase your intake of fruits such as orange, melon, and strawberries, all of which contain vitamin C, and can slow the process of premature greying of hair.
*Walnuts contain biotin (vitamin B7) that helps strengthen hair, reduces the occurrence of premature grey hair, and improves hair growth to a certain extent.
*Adding almonds and other nuts, rich in vitamin E and proteins, in your diet can help you reduce greying of hair.
*Cook your food using mustard oil as it is rich in Omega 3 fatty acids which is important for hair growth and strong, lustrous hair. It also helps to reduce the problem of premature greying of hair.
Follow @htlifeandstyle for more