Have you seen Kim Kardashian's abs? Here's how she keeps her body toned and trim
Kim Kardashian has been a famous celebrity for as long as we can remember. And along with being a tremendous social media and reality TV star, she's also known for her sculpted, flawless physique (those ripped abs, though!). Here's how the fitness powerhouse gets her killer body.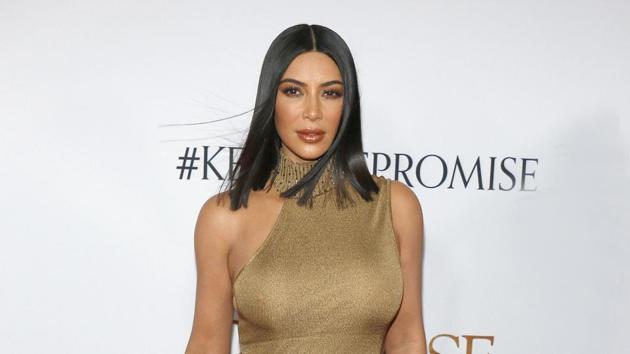 Updated on Mar 01, 2018 09:09 AM IST
Hindustan Times, New Delhi |
HT Correspondent
Say what you want about US reality TV and social media star, Kim Kardashian, but under all the show-stopping dresses and colourful hair changes, we can agree that she has one insanely-ripped body. If you've been wondering how exactly she keeps such a gorgeous figure, you're in for a treat.
Now you can workout just like the mother-of-three. In a new post on her app entitled, How I Get a Flat Stomach, the Keeping Up with the Kardashians star detailed her rigorous workout routine, going into great detail about how she works her abs, reported E! Online.
Kim, who recently revealed her waist is 24 inches, and her trainer Melissa Alcantara share Kim's "exact" ab workout with her followers.
Feel like slimming down or just ready to try the Kardashian way of life, start taking notes.
1. Leg lifts
Grab a mat to lay down on for this exercise. Once you're on your mat you take your hands and put them under your butt and "spread feet about hip-width apart and bend your knees slightly." Then you lift both of your legs up in the air and create a 90-degree angle before bringing your legs back down to the ground. But make sure your feet don't hit the ground as you bring your legs back up in the air.
2. Plank hold
For this you will get into a push up position and make sure your hands are "directly under your shoulders." You'll then hold this position for one minute, rest for 30 seconds and repeat.

3. Ab roller
For this exercise, you will begin by kneeling on the floor with your ab roller in front of you, placing your knees on either side of the roller. Then you'll slowly push the ab roller forward, "stretching your body into a straight line." When you've gone as low as you can, roll back to the beginning position.
4. Kneeling rope crunches
"Using the rope on a cable fly machine, choose a starting weight that will challenge you (about 30 pounds, but adjust as needed)," Melissa writes. You will then get into a kneeling position, grab the rope with both of your hands and "place your thumbs on your temples." Keep your hands like this throughout the exercise. You'll then lower your head to the floor, lowering your butt but not letting it touch your heels. You'll then return to the beginning position. Do four sets of 30 reps for this exercise.
Follow @htlifeandstyle for more
Close Story