Padmavati: Get in shape with Ranveer Singh's insane Alauddin Khilji workout
Updated on Nov 08, 2017 09:38 AM IST
Actor Ranveer Singh worked out twice a day for six days a week to transform into Alauddin Khilji for his upcoming film Padmavati. Can you handle his Hercules workout and meal plan, including staying off any kind of sugar?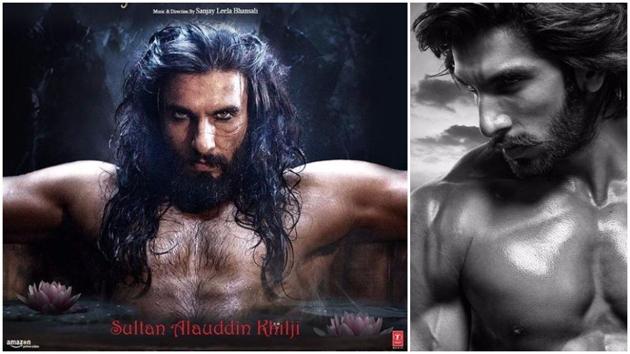 Hindustan Times, New Delhi |
HT Correspondent
Admit it - it's hard to ignore actor Ranveer Singh's biceps, which he proudly posts on Instagram. With the release of Sanjay Leela Bhansali's historical drama Padmavati, less than a month away, the fit actor frequently posts photographic proof that he wasn't just engineered in a lab to have blockbuster biceps and action-hero abs for his roles as Alauddin Khilji in the Deepika Padukone-Shahid Kapoor starrer.
If you're a die-hard Ranveer fan (or someone who simply follows him on Instagram) you most likely remember the exact moment -- sometime in June, 2017- you realised the actor's body had gone from lean and sporty to macho-esque bulky -- in what would seem overnight.
But as we all know, good things don't come that easy. The body in those Instagram photos didn't come to be courtesy of just a few sit ups: Ranveer teamed up with Mustafa Ahmed, the man behind his Padmavati physique.
Mustafa, who also works with actor Hrithik Roshan, drops some fitness knowledge before Padmavati's release in an interview with Vogue India. When asked about the workouts he did with Ranveer, Mustafa says, "We focused a lot on movement patterns, mobility drills that involved strength training and conditioning workouts like high intensity interval training (HIIT) with push-ups, burpees, power moves like deadlifts, squats." These were focused on improving Ranveer's overall flexibility, he adds.
While elaborating on how Ranveer was trained to get into his Alauddin Khilji avatar, Mustafa says, the actor worked out twice a day for six days a week, while training for Padmavati.
"In the mornings, we would usually do a cardio session followed by a mobility drill of 20-25 minutes. The morning workout would be only for 40-45 minutes as he'd be short on time. The evening session would be more extensive- an hour or hour and a half of weight training and heavy lifting."
Mustafa also advised Ranveer to take one day off, every week: "If he really wanted to work out, I recommended a swim."
As far as diets go, Mustafa is all about watching what you eat - basically maintaining an energy-rich diet sans sugar - to maintain your body.
"I create a diet for an individual based on their routine." he says, adding, "For Ranveer, the first thing I told him was to cut off any kind of sugar from his diet. That was our golden rule. Six months during Padmavati and even before, he was off sugar."
But it wasn't all work and no play for Ranveer, as his trainer forced him to kiss his diet goodbye for one/two days a week and indulge in pretty much whatever his heart desired.
"I gave him two cheat meals in a week with the option of having these two meals anytime in the week. He would prefer having both of them in the same day so he could have a complete cheat day. During his cheat meals he could have sugar, junk food and almost anything he wanted," Mustafar says about Ranveer's binge eating.

So, are you ready to put in the time, effort, and dedication to sculpt body worth flaunting on the big screen?
Follow @htlifeandstyle for more
Personalise your news feed. Follow trending topics