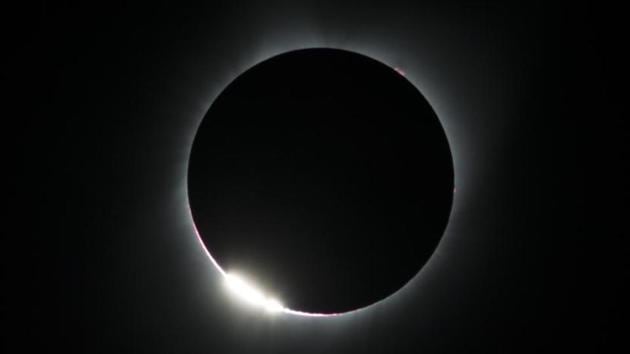 Solar eclipse 2018: Follow these diet do's and don'ts to stay safe during the eclipse
Solar Eclipse 2018: Follow the traditional guidelines recommended by Ayurveda on what to eat and avoid during the Surya Grahan. Ayurveda prescribes dietary restrictions during the solar eclipse.
UPDATED ON JUL 24, 2018 04:48 PM IST
July 13th marks a partial solar eclipse or Surya Grahan when the moon will pass between the sun and earth, resulting in partially blocking the Sun. What makes it more interesting is that the eclipse falls on a Friday, on the 13th day of the month which is considered ominous. There are lots of myths and beliefs about eclipses. And traditionally, Hindus in India follow dietary restrictions based on Ayurveda.
It is believed that solar eclipses are inauspicious as the sun is not clearly seen and could lead to an increase in bacteria and germs. Hence, during the eclipse, many people avoid cooking or eating food, drinking water or going outdoors. Some people believe in chanting or praying during this period to protect themselves from its harmful effects. After the eclipse, many people take a bath to purify themselves and change into fresh clothes.
Also read: Solar Eclipse 2018, 5 ancient myths about the phenomenon
On his website, spiritual guru Sadhguru Jaggi Vasudev says that, "… there is a distinct change in the way cooked food is before and after the eclipse. What was nourishing food turns into poison. Cooked food will go through the phases of its deterioration much more rapidly in a subtle way than it does on a normal day."
Dr Priyanka Sampat, Head Doctor at Birla Ayurveda, Mumbai, explains that according to Ayurveda, the earth exerts a lot of influence on the body. So, what happens in the cosmos also has significance for the human body. "During a solar eclipse, the magnetic fields and UV ray levels are high. And our metabolism and digestion becomes weak. That's why people are advised to avoid eating and fast during this time," she says.
Modern science doesn't endorse any change in diet during the eclipse, but if you choose to follow traditional guidelines, here's what you should keep in mind:
* Ayurveda advises that people refrain from eating during the eclipse, but there are exceptions for old, ailing and pregnant patients who can eat light, sattvik food that can be easily digested. "Rice gruel or moong-soaked water are good options for such people," says Dr Sampat. She adds that Ayurveda recommends that women not step out during a solar eclipse as the UV rays may be damaging for the foetus.
* While drinking water is also to be avoided, if you must drink, try to sip on lukewarm, boiled water. "Boiled water in Ayurveda refers to water that is boiled to 1/8th of quantity and is lighter to digest," says Dr Sampat.
* It is best to avoid hard-to-digest foods, be it non-vegetarian food, bread, onion, garlic, alcohol, or fermented foods.
* Post the eclipse, you can resume your usual diet but start slow by eating easily digestible fruits, rice gruel or puffed rice which will give you instant energy and are healthy.
* Eat cooked foods that are rich in turmeric and add tulsi to whatever you eat or drink as it can restore immunity power.
Follow @htlifeandstyle for more
Close