World Cancer Day: How Tahira Kashyap uses Nichiren Buddhism to fight the disease
Updated on Feb 05, 2019 01:40 PM IST
World Cancer Day: The author and soon-to-be director, who is the wife of Bollywood actor Ayushmann Khurrana, says cancer breaks you and scares you but she took it head on.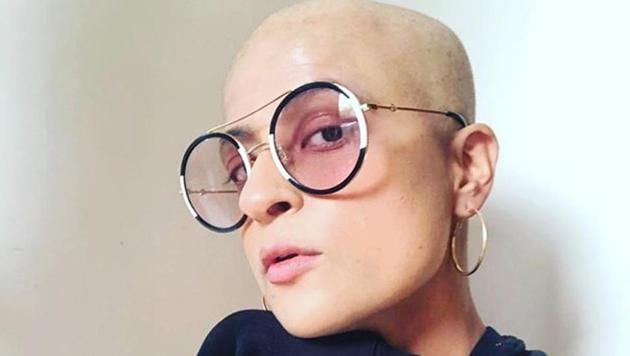 Hindustan Times, Delhi |
, New Delhi
Juhi Chakraborty
Tahira Kashyap's brave fight against breast cancer is an inspiration for many. The author and soon-to-be director, who is the wife of Bollywood actor Ayushmann Khurrana, says cancer breaks you and scares you but she took it head on.
"I practice Nichren Buddhism. It has taught me that you have to be mentally strong. It has an impact on your physical being. It (cancer) was a minor frustration for me. But I accepted it truly. I decided that I will not live in denial and hide it from the world," says Tahira, who was detected with DCIS (ductal carcinoma in situ) with high grade malignant cells last year.
Tahira often shares spirited posts about her cancer battle, and on World Cancer Day she also shared a photo which shows her bald head, bare back and a scar from her mastectomy, performed last year.

When Tahira Kashyap was diagnosed with breast cancer, she promised herself that she won't let the disease deflate her spirit. She also decided to do her bit to erase the taboo, stigma and myths associated with the disease.
"When I was enduring, I saw that there is so much taboo and stigma and shame attached to it. It's a disease and it can happen to anyone. There is a treatment for it," says the gritty 36-year-old who is on her way to recovery.
"I agree that cancer scares you and throws you off but I wanted to change that. I wanted to give hope and faith. I don't want cancer to be associated with something very negative," she says. Tahira often shares the story of her struggle with her fans. She recently posted a picture of her shaved head, calling it liberating. She says that was her way to show that there is nothing wrong with being diagnosed with cancer. She urges women to go out and get themselves examined if ever they feel there is some problem.
Tahira and Ayushmann have two kids— son Virajveer (seven) and Varushka (four) and she says they are aware of their mother's condition."They know about it but they don't understand what cancer is about. I didn't tell them that I am going for some vacation. I told them that I am going to the hospital and that there is something wrong and I shall be back. On the last day, I called them at the hospital and played with them. I didn't want to hide from them," she says.
Tahira can't stop gushing about how her husband handled the whole situation and has been her biggest source of strength during this whole time. She also says that cancer has not overtaken their life.
"Cancer is the last thing we discuss. We have not given it that much importance that it takes over our life but we have given it that much importance to create awareness. He is my biggest strength and how he dealt with it is commendable. It was the opposite satiation in his professional life with two big hits. And I was going through mastectomy, reconstruction... He was giving all his interviews like a true professional in the day and at night he would come to the hospital. I am very proud of him," she concludes.