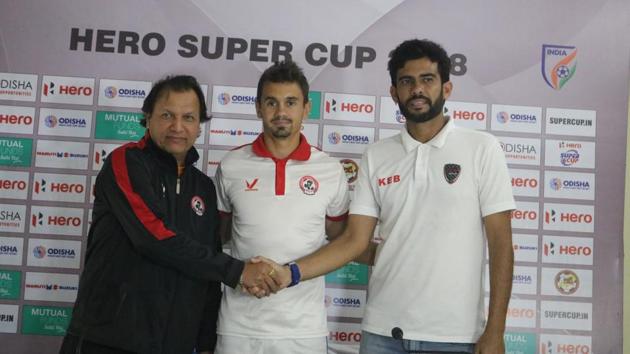 Aizawl FC face fellow I-league side East Bengal in Super Cup quarters
Two I-league sides East Bengal and Aizawl FC will be battling each other to make it to the semi-finals of the Super Cup.
Press Trust of India, Bhubaneshwar | By Press Trust of India
PUBLISHED ON APR 07, 2018 09:07 PM IST
Landing the knockout punch on reigning ISL champions Chennaiyin FC notwithstanding, Aizawl FC preferred to be the "underdogs" as they geared up to face another stiff challenge in East Bengal, in the first quarterfinal of the Hero Super Cup here tomorrow.
Two days before the big win over Chennaiyin FC though, the 2016-17 I-League winners lost to Bengaluru FC in the AFC Cup two days back.
"I believe top teams are under pressure now. They have to win the championship and they have their own plans to implement," Aizawl FC coach Santosh Kashyap said.
READ | East Bengal come from behind to beat Mumbai City FC in Super Cup
"Chennaiyin were the favourites against us. East Bengal will also start as favourites and we're happy to be the underdogs and stage upsets. They have to perform better and beat us. East Bengal could not win any silverware this season and expectations are huge from them."
The coach denied that the schedule might take a toll on the players.
"It's a good opportunity for us. Yes, the schedule is tight but it happens in football. We're here to give our best and win, that's it."
Andrei Ionescu, the architect of Aizawl FC's last win expressed that the team's victory is more important than personal glory.
READ | Bengaluru FC beat Aizawl FC 3-1 in AFC Cup group E match
"We respect East Bengal as opponents. But the game is not played by numbers or names. It starts with the whistle and ends with it. We have come here with a strong positive mentality and we believe that we can beat them tomorrow.
"Winning is important. I would be happy to contribute to the win. That's my primary concern, not scoring", Ionescu stated.
East Bengal, who made a stunning comeback against Mumbai City FC, are ready for their familiar foes.
Incidentally, the Kolkata heavyweights had failed to secure a single win against the Mizo outfit this season. But their Brazilian defender Eduardo Ferreira feels it's time to look forward and move on.
"Every game is like final here. We have come to play our natural game and win it. Yes, we conceded goals in I-League, but that is past. We don't look back into the past, rather we focus on the future."
READ | Football bosses evasive; Bhaichung Bhutia, Renedy Singh back FIFA proposals
Coach Khalid Jamil pointed out that facing a "known" opponent is advantageous but there is a flip side to it too.
"We have a fair idea about them and we can set our strategies accordingly. On the other hand, they also know us vividly and that might help them outwit us", the former Aizawl FC coach said.
The soft-spoken coach brushed the favourites tag aside, saying, "No one is going to start as favourites. Whoever puts more effort and works harder on the pitch, gets the positive result and tomorrow will be no different."
Close