Chennaiyin FC versus Kerala Blasters in ISL's most bitter rivalries
Although far from Mohun Bagan-East Bengal rivalry, ISL face-off intensifies as Kerala Blasters go 'Zidane' on champs Chennaiyin FC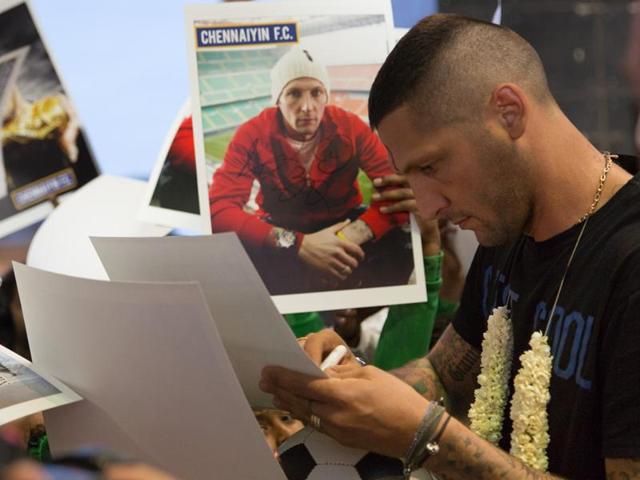 Updated on Nov 12, 2016 05:38 PM IST
It's been over a decade but Marco Materazzi isn't allowed to forget that he was the agent provocateur for Zinedine Zidane losing his head in the 2006 World Cup final in Berlin. On Saturday, rivalries among ISL teams could go a notch higher if thousands of Zidane masks stare at the Chennaiyin FC coach when Kerala Blasters host them in Kochi.
That would be the home team fans' way of conveying what they think of the 2006 World Cup winner who helmed Chennaiyin FC to the ISL title last year. The teams have had fractious relations since the ISL began.
It started with Materazzi, then player-cum-coach, being sent off in the second-leg of the semi-final in 2014 after Chennaiyin FC had nearly pulled off the mother of all comebacks. "I think millions saw that match and all of them would think that it (his sending-off) was not a fair decision," Materazzi, who has been shown the red card 25 times in his career, had told HT before the start of ISL 2 last year. It sure helped stoke the embers.
This year, Materazzi was banned for one match for 'misconduct against opponents or persons rather than match officials' after the match against Kerala Blasters in Chennai on October 29. The game ended 0-0 but Materazzi had reportedly got into an scuffle involving Chennaiyin's Manuele Blasi and Kerala's Kervens Belfort in their last match. The Zidane masks are a reaction to that and when asked about it at Friday's media conference, Materazzi is said to have asked whether they are spending a lot on them and that he would rather use that money on food.
Rivalries of the kind that is the bedrock of football's popularity is difficult in the ISL because it is new and last only three months. Chennaiyin FC-Kerala Blasters games though have generated some heat. And given how things turned ugly after the ISL2 final, it will have to be seen whether there's an edge to the proceedings when Chennaiyin FC visit Goa, on December 1. Coincidentally or otherwise, that will be their last game in the league phase.
Next in pecking order, after Chennaiyin-Kerala, would be Atletico de Kolkata's contests with FC Goa. That too has its genesis in the first year. FC Goa's Robert Pires, ATK's Fikru Teferra and coach Antonio Habas were fined and banned for their behaviour in Goa. Next year, FC Goa coach Zico complained that ATK had denied them a chance to train before the game in Kolkata. And after a 1-1 draw in Kolkata with eight yellow cards and two red cards in ISL3, Zico criticised the referee.
With Habas joining FC Pune City, along with former ATK players such as Edel Bete and Izumi Arata, their match-ups too have gone beyond the pitch. FC Pune City won 2-1 at home and it'll have to be seen what kind of reception Kolkata gives Habas when he comes here on December 2 for ATK's last home game.
The only real football rivalry in India is between Mohun Bagan and East Bengal; one recognised as being among the world's biggest derbies. Apart from history, what works here is the massive fan base of both clubs. But because the fan engagement is the ISL is way higher than in the I-League, new rivalries are beginning to take shape.
Close Story