Croatia fans, Twitter explode with joy as team reaches FIFA World Cup 2018 semis
Agence France-Presse |
Agence France-Presse
Jul 08, 2018 10:13 AM IST
The FIFA World Cup 2018 quarterfinal was locked at 2-2 after extra-time but Croatia held their nerve to win the shootout 4-3 against Russia, with Barcelona's Ivan Rakitic scoring the decisive penalty
Tens of thousands of Croatians poured onto the streets to celebrate victory in the "match of a generation" against World Cup hosts Russia on Saturday after a dramatic penalty shootout that sets up a semi-final against England.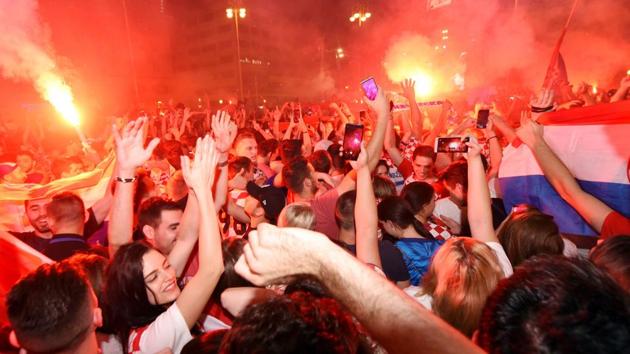 The game in Russia's Black Sea resort of Sochi was locked at 2-2 after extra-time but Croatia held their nerve to win the shootout 4-3, with Barcelona's Ivan Rakitic scoring the decisive penalty.
READ | FIFA World Cup 2018: It's England vs Croatia, France vs Belgium in race to final
"Russia has fallen! Hug, cry... Croatia is among the four best teams in the world," exclaimed the TV commentator from the state-run HRT channel.
There were shouts of joy, hundreds of flares were lit and Croatian flags were waved as an estimated 15,000 fans celebrated the win for captain Luka Modric's side win in Zagreb's main square, where they had watched the match on a giant screen.
Thousands of other red-and-white-painted supporters celebrated the victory at fan zones in the capital and other cities.
READ | Luka Modric pleased to get through 'another drama' at FIFA World Cup 2018
"Play my Croatia, when I see you my heart is on fire!," a popular song, was heard in squares and streets throughout the country.
"Hrvatska! Hrvatska!" (Croatia) chanted the fans, while drivers blared their horns and the parties were set to continue all night long.
'An awesome thing'
"We should all be proud, here and in Croatia. This is an awesome thing," coach Zlatko Dalic told HRT.
"We deserved to win. It was a very tough game against 50,000 people at the stadium... It would be pity not to see Moscow while we are in Russia."
READ | Russia coach 'pleased' after valiant effort from hosts in FIFA World Cup
Football fever has ratcheted up in the country of around four million people, boosted by a thumping 3-0 group-stage win against Argentina and a victory on penalties against Denmark to reach the quarter-finals.
Cars are decorated with red-and-white chequerboard flags and football jerseys are being sold in large numbers.
"Modric is bestselling, although (Danijel) Subasic is becoming increasingly popular," Ana Maric, 20, selling souvenirs in downtown Zagreb, told AFP.
Goalkeeper Subasic was the hero against Denmark in the last 16, making three penalty saves.
Media had labelled the game the "crucial match of this generation", stressing it was a chance to match the success of the 1998 squad that reached the semi-finals in Croatia's first World Cup as an independent nation.
"Dalic's Croatia repeated the success of the legendary generation from 1998... they reached the World Cup semi-finals and continued their fairytale," said the Tportal website.
"Fiery dream continues! After another thriller Croatia in semi-finals!" said the Sportske Novosti paper's online edition.
In Sochi, Croatia fans were massivelt outnumbered in a crowd of more than 40,000, but Dalic's team had one notable backer -- President Kolinda Grabar-Kitarovic.
"The boys were great," she told HRT, although she said she regretted that the host nation was eliminated.
"I hope we will make it to the finals, the boys can do that, I see they are in a good mood... See you in the finals," the president said.