Barcelona vs Real Madrid Highlights, El Clasico at Camp Nou: As it happened
Oct 28, 2018 10:49 PM IST
Highlights: Luis Suarez scored a hat-trick as Barcelona thrashed a beleaguered Real Madrid 5-1 at the Camp Nou on Sunday to go top of La Liga and pile the pressure on Real coach Julen Lopetegui. Without the injured Lionel Messi, Barca ran riot with Philippe Coutinho and Arturo Vidal also scoring, as Ernesto Valverde's men pulled seven points clear of ninth-placed Real in the table. The capital-city side have now failed to win their last five league games.Follow highlights from Barcelona vs Real Madrid here -
22:39 hrs IST
Full Time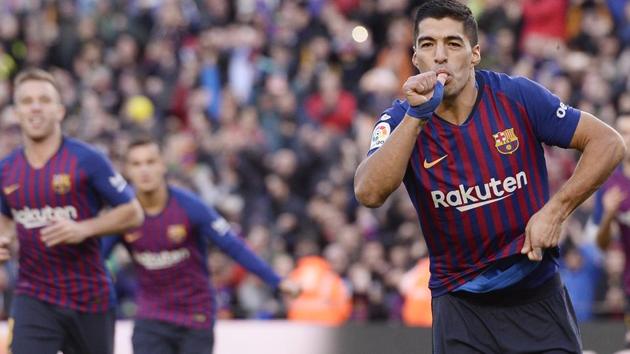 It's full time at Camp Nou as Barcelona rout Real Madrid 5-1! Luis Suarez was the star performer for the Catalans as he scored a brilliant hat-trick and he was given ample support by Arturo Vidal and Philippe Coutinho who scored one each. Marcelo was the only scorer for Real Madrid.
22:33 hrs IST
Vidal makes it 5-1
It is 5-1 for Barcelona and this time, the scorer is Arturo Vidal. It was a brilliant set up by Ousmanne Dembele who provided the perfect cross for the Chilean and he made no mistake from close range!
22:30 hrs IST
Hat-trick for Suarez
A brilliant through pass, dribbling past two defenders and a deft touch over the goalkeeper - Luis Suarez completes his hat-trick in style as Barcelona are running away with the game! This has been a true masterclass by the Catalans!
22:25 hrs IST
Huge Goal
⚽ Minute 75: Assist from Sergi Roberto from the right to Luis Suárez, and the Uruguayan nods in firmly from the middle of the box! (3-1) #ElClásico pic.twitter.com/zvbrwPYFQi

— FC Barcelona (@FCBarcelona) October 28, 2018
22:20 hrs IST
Suarez scores again
A pass from Sergi Roberto and Luis Suarez makes it 3-1! It was a brilliant header from the Uruguayan striker and this is almost game over for Real Madrid!
22:13 hrs IST
Real Madrid persistent
Marcelo has scored in three consecutive games for the first time in his Real Madrid career. However, they are still trailing in the encounter and Karim Benzema's header went sailing over the goal!
22:07 hrs IST
End to end play
End to end stuff at Camp Nou as both teams came really close to scoring once again. While Luis Suarez's acrobatic effort was denied by the crossbar, Isco had the chance to find the equaliser but Gerard Pique pulled off a last-minute tackle.
22:01 hrs IST
Resurgence for Madrid
Real Madrid are well and truly back into the game as they are showing intent in their search for the equaliser. Luka Modric came closest to find the goal but his well-placed shot came back after hitting the post!
21:56 hrs IST
Marcelo pulls one back
Real Madrid went for a three defender formation and the results are almost instantly apparent as Marcelo scores! It was a good cross by Gareth Bale and thanks to a lucky turn of events, the Brazilian was able to guide the ball to the back of the net.
21:50 hrs IST
Second half begins
The second half is underway and Lopetegui brings on Lucas Vasquez for Raphael Varane as Real Madrid seems to have shifted to a 3-4-3 formation. Will it work out for the Los Blancos?
21:35 hrs IST
Half time
It's half-time at Camp Nou as Barcelona lead 2-0 against Real Madrid! Phillippe Coutinho handed Barca the lead while Luis Suarez made it 2-0 from the penalty spot. Fun fact: Suarez celebrated scoring the second with a tribute to his third child Lauti, who was born on Tuesday
21:28 hrs IST
Spineless Real Madrid
What an abysmal show by Real Madrid! The Los Blancos have just one shot on target and they have been quite below par in the match till now. Barcelona have enjoyed more than 60 percent of the possession and it will take something special from Madrid to script a comeback at Camp Nou.
21:22 hrs IST
Barcelona on cloud nine
⚽🔥 The VAR calls a penalty on Varane for a foul on Luis Suárez and the Uruguayan doubles the lead from the spot! (2-0) #ElClásico pic.twitter.com/lKXFBaTWfu

— FC Barcelona (@FCBarcelona) October 28, 2018
21:15 hrs IST
Barcelona double lead
VAR makes its appearance at the El Clasico and it is a penalty for Barcelona. Luis Suarez made no mistake as the Catalans now have 2-0 lead against the struggling Real Madrid!
21:08 hrs IST
Support for Barcelona
Desde la otra punta del mundo!! Vamos @FCBarcelona 🔴🔵

From the other side of the world!!
Let's go @FCBarcelona 🔴🔵 pic.twitter.com/B4twBSXoC5

— Andrés Iniesta (@andresiniesta8) October 28, 2018
21:06 hrs IST
More chances for Barcelona
It has been all Barcelona till now as they came close once again to scoring a goal. It was a bad mistake from Nacho who allow Arthur to get the ball in a dangerous area and his long range effort was scored acrobatically by Thibaus Courtois.
20:59 hrs IST
Barcelona lead
Phillipe Coutinho hands FC Barcelona the lead as they are 1-0 up against Real Madrid. It was a brilliant through pass from Jordi Alba that found Luis Suarez down the left side and it was his pass that allowed Coutinho to score his first goal of the season.
20:56 hrs IST
Atletico takes top spot
Atletico Madrid climbed to the top of La Liga with a comfortable 2-0 win at home to Real Sociedad on Saturday, easing the pain of their humbling 4-0 defeat at Borussia Dortmund in the Champions League in midweek.
20:52 hrs IST
Solid start
A good start for both Real Madrid and Barcelona as both sides are looking for the early advantage. While Barcelona tried to play a lot of passes among themselves, Real Madrid's focus seems to be on the final ball to unleash Karim Benzema.
20:46 hrs IST
Lopetegui under pressure
The teams are out in the middle and we are moments away from the start of the encounter. Julen Lopetegui heads into his first clasico against fierce rival Barcelona still believing he can succeed as Real Madrid coach. Speculation of his imminent firing has been rampant in Spain since Madrid went on a five-game winless streak that included its longest ever scoring drought.
20:38 hrs IST
Sad news for Leicester City
In other news, Leicester City's charismatic Thai boss was feared dead Sunday after a helicopter belonging to the billionaire crashed and burst into flames in the football stadium car park moments after taking off from the club's pitch.
20:31 hrs IST
Real Madrid stick to tested formula
Julen Lopetegui picked playmaker Isco in place of forward Marco Asensio in what is likely to be a four-man midfield, with Gareth Bale and Karim Benzema up front. Spain international Isco has recently returned to action from a month out following an appendicitis.
20:24 hrs IST
Barcelona's tactics
Barca are set to line-up in a 4-3-3 formation with Rafinha on the right, Luis Suarez as central striker and record signing Philippe Coutinho on the left. Rafinha struck Barca's first goal in their Champions League victory over Inter on Wednesday.
20:19 hrs IST
Team news
Barcelona's Brazilian midfielder Rafinha was chosen in place of the injured Lionel Messi for Sunday's 'Clasico' against arch- rivals Real Madrid, as coach Ernesto Valverde kept faith with the same players who beat Inter Milan 2-0.
20:11 hrs IST
A look at the line-ups
🔥 The starting XIs are out for #ElClasico! 🔥

What do you reckon? pic.twitter.com/OPVErTx5F5

— LaLiga (@LaLigaEN) October 28, 2018
20:08 hrs IST
Hello and welcome
Welcome to the first El Clasico encounter of the season between Real Madrid and Barcelona. It will be the first Clasico without either Lionel Messi or Cristiano Ronaldo since 2007. The strikers then included Ruud van Nistelrooy and Robinho for Madrid, Samuel Eto'o and Ronaldinho for Barcelona.