Fernando Torres head injury: Videos of 6 worst injuries in football
Mar 03, 2017 02:37 PM IST
Fernando Torres is expected to make a recovery from the recent 'brain injury' injury he suffered. Here are some other horrific knocks that have caused debate in the past
Fernando Torres suffered a 'traumatic brain injury' during Atletico Madrid's 1-1 draw with Deportivo la Coruna in the La Liga on Thursday.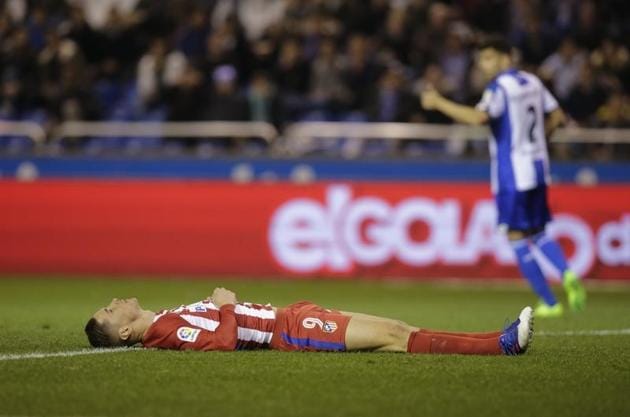 Challenging for an aerial ball, Torres was hit from behind by Deportivo's Alex Bergantinos as the two players' heads collided.
Read more | I heard a crack from the dugout - Simeone feared Fernando Torres neck injury
The former Liverpool and Chelsea striker hit the ground face-first and was taken to the hospital immediately. After undergoing a CT scan, Torres tweeted his gratitude to well wishers and said he hoped to return to playing soon.
In the aftermath, much will be discussed about treatment of head injuries suffered on the football field. Here are some of the other incidents that have triggered similar concerns:
Patrick Battiston: July 8, 1982
(France v West Germany, 1982 Fifa World Cup semifinal)
West German goalkeeper Harald "Toni" Schumacher had a reputation of being hot headed. In the feisty semifinal encounter in Seville, Frenchman Patrick Battiston was rushing onto a glorious Michel Platini through ball that split the German defence. The goalkeeper rushed out to challenge for the ball but seemed more intent on attacking his opponent. Schumacher went flying into Battiston and struck the Frenchman with his shoulder. Battiston suffered a damaged vertebrae, a broken jaw, lost four teeth and went into a coma. Somehow, Schumacher was not punished for the incident which has come to be known as the 'Tragedy of Seville'.
Petr Cech: October 14, 2006
Reading v Chelsea, Premier League match
Just 20 seconds into the game, Peter Cech slid close to the floor to collect a loose ball as Reading's Stephen Hunt chased it down. Cech's head took a double impact as it was hit by a trailing leg from Hunt and then bounced off the ground. He was treated on the field, stretchered off and then collapsed in the dressing room. After scans at the Royal Berkshire Hospital, it was revealed that he suffered a depressed fracture wherein two pieces of skull had broken away and fallen into his brain. Had the pieces gone deeper, he could have died. He had emergency surgery with metal plates installed in the skull. He has worn a protective head guard while playing ever since.
John Terry: February 25, 2007
Chelsea v Arsenal, 2007 League Cup final
Trying to get himself on a loose ball resulting from a second-half corner, John Terry dove in head first and was kicked in the face by the boot of Arsenal's Abou Diaby. The Englishman immediately lost consciousness and fell to the ground. He swallowed his tongue, stopped breathing and suffered a concussion. Players of both teams frantically signalled for medical assistance. He was treated on the pitch for five minutes before being taken to the hospital. Later, he told teammates that he no memory between the start of the second half and when he woke up in the ambulance on the way to hospital.
Klaas-Jan Huntelaar and Chris Smalling: March 1, 2012
England v Holland, friendly
In a friendly match at Wembley ahead of Euro 2012, Klaas-Jan Huntelaar and Chris Smalling violently clashed heads while challenging for an aerial ball in the England box. Huntelaar managed to get to it first and scored a powerful header before being knocked out in the collision with Smalling. The Dutchman came off worse in the impact, seen dazed on the turf with a mouthful of grass before both players were taken to the hospital. Days later, Huntelaar said, "When I cough I feel my brain is still shaking".
Martin Berkovec: February 27, 2017
FC Slovacko v Bohemians 1905 Prague, Czech First League match
Francis Kone went from the target of racial abuse by the away fans to their hero when he saved the life of Bohemians' goalkeeper Martin Berkovec. Kone and Bohemians defender Daniel Krch were chasing down a loose ball which Berkovec also rushed out for. The goalkeeper was first to the ball but collided with his teammate, getting knocked out in the process. Kone, realising the danger, immediately put his fingers in Berkovec's mouth to stop him swallowing his tongue and suffocating. Berkovec was taken to the hospital and later thanked Kone by posting on his Facebook wall.
Christoph Kramer: July 13, 2014
Germany v Argentina, 2014 World Cup final
Christoph Kramer was accidentally struck in the face by the shoulder of Argentina defender Ezequiel Garay and was temporarily disoriented. After getting treatment, he carried on playing the game but was suffering memory lapses. Reportedly, he asked referee Nicola Rizzoli, "Ref, is this the final?" as he was unsure of where he was. Ten minutes after the collision, he fell to the turf, dazed from a concussion which forced him off the field. The injury sparked debate over lapses in treating head injuries especially since Argentina's Javier Mascherano and Uruguay's Alvaro Pereira had played on after suffering concussions in earlier matches of the tournament.
"Exciting news! Hindustan Times is now on WhatsApp Channels
Subscribe today by clicking the link and stay updated with the latest news!"
Click here!