FIFA World Cup 2018: Let Lionel Messi take the next penalty for Argentina too, writes Bhaichung Bhutia
Lionel Messi missed a penalty for Argentina in their 1-1 draw against Iceland and the Argentina skipper was suffocated by Iceland, something Spain failed to do against Cristiano Ronaldo.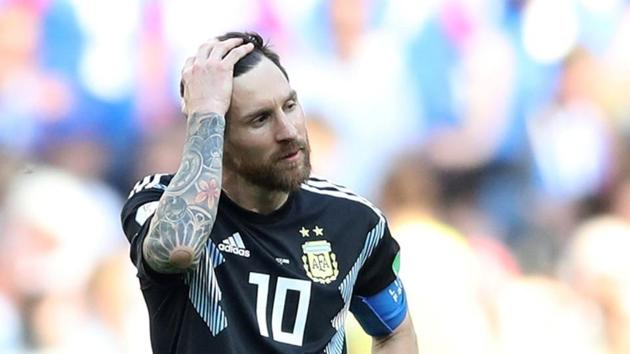 Updated on Jun 17, 2018 09:43 AM IST
Hindustan Times, New Delhi |
Bhaichung Bhutia
The divine was followed by the disastrous as the two greatest players in the world started work in Russia one day after the other. Even by his exalted standards, Cristiano Ronaldo got off to a flying start against Spain. I am not much of a drinking man but looking at him in a claret shirt on a Friday night made me think of a bottle of red that has aged really well. That made Lionel Messi's start even more of a study in contrast.
To understand why that happened, we need to see how Ronaldo and Messi's opponents played. Say what you will about the drama around their coach, Spain are in Russia to make a serious pitch for the title. That means they would take the game to their opponents, and when that happens, the rival team, or its talismanic attacker, gets more space to strut his stuff. Sometimes it is good to play quality opponents than one focused on getting a point.
That didn't happen with Messi. Whenever needed, Iceland's midfield fell back and along with their defence, suffocated Messi in the way Ronaldo was not. That is also why Messi couldn't make runs behind the defenders like we are so used to seeing him do at Barcelona. But get this: it is going to be difficult for Ronaldo because Iran and Morroco are going to batten down like Spain didn't.
For Messi though it is going to be the same against Croatia and Nigeria and that is why I think Argentina should not channel all their attacking options through him. This is not to undermine the great LM10 but I think it makes things easier for Argentina's opponents. None of that, however, takes anything away from the fact that he hit a bad penalty. It was terrible in terms of the angle and the height.
But keeping in mind how I stayed away from taking penalties for club and country after a few misses, I'll say this: should Argentina get another, I would want Messi to take it. That is because he is a deadball specialist and one missed shot from the spot doesn't make a difference to his abilities. And I also don't think that Messi was under greater pressure on Saturday because Ronaldo soared high. These things don't matter to champions for whom the sublime is normal service.
It would be improper of me to not end with the piece of magic Ronaldo uncorked with that free-kick. Apart from hours at the training ground for months, if not years, I think what made the difference was where he struck the ball. Unlike Spain though, Iceland didn't concede free-kicks in dangerous areas. They took Messi out in areas so far from goal that the left-foot wasn't as lethal as it usually is. It is another matter that Messi's deliveries on Saturday weren't close to his best.
- Former Indian football captain Bhaichung Bhutia is writing exclusively for Hindustan Times.
Close Story