FIFA World Cup 2018, Senegal vs Colombia highlights: Yerry Mina's goal helps COL beat SEN, qualify for last 16
Jun 28, 2018 09:34 PM IST
Follow highlights of Senegal vs Colombia, FIFA World Cup 2018 Group H match, here. Senegal crashed out of the FIFA World Cup following their 0-1 loss to Colombia in a decisive Group H clash in Samara.
Colombia defeated Senegal 1-0 in a crucial Group H match to enter the Round of 16 of the FIFA World Cup 2018. Yerry Mina's goal in the 74th minute was enough for the South Americans to enter the knockouts and in the process knocked out the African outfit at the Samara Arena. Colombia topped the group with six points while Japan and Senegal both finished with four points. However, their goal difference and points etc was the same meaning it boiled down to fair play where Japan were better. Poland earned a consolation 1-0 win over Japan to end fourth with three points. Follow highlights of Senegal vs Colombia, FIFA World Cup 2018 Group H match here. (FIFA WORLD CUP 2018 FULL COVERAGE) (JAPAN vs POLAND)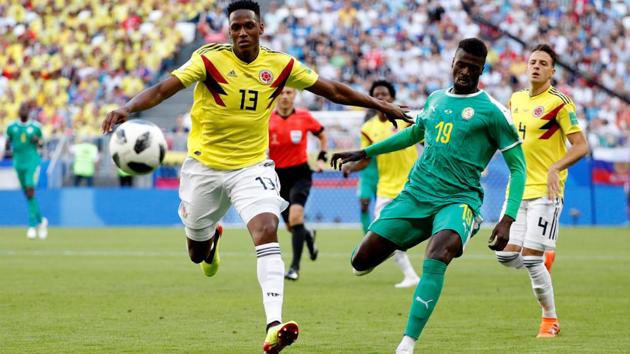 21:35 hrs IST: Hope you enjoyed our coverage. Thanks for joining in
21:30 hrs IST: Japan entered the last 16 ahead of Senegal, as both were with four points, on the basis of fair play
21:25 hrs IST: And Colombia win 1-0! And hence top Group H! What a win it is for them after losing their opener to Japan, who also make it into the Round of 16 despite their loss to Poland
21:20 hrs IST: Four minutes of added time
21:18 hrs IST: Borja replaces Falcao in the 89th minute
21:15 hrs IST: James Rodriguez, who is out with an injury, is giving instructions to his teammates from the dugout. He surely wanted to be out there
21:10 hrs IST: Ohhhh! Ospina saves a very close. Senegal almost scored from the corner here
21:07 hrs IST: Mina scores! Colombia go 1-0 ahead in the 74th minute!
21:03 hrs IST: Who would have thought that Japan, who were leading Group H a couple of hours earlier, are on their way out of the World Cup if things stand as it is
21:00 hrs IST: Colombia and Japan will both have four points but Colombia are ahead on goal difference
20:56 hrs IST: In this scenario, both Senegal and Colombia will go though while Japan will be knocked out as Senegal will now have five points and will top the group
20:52 hrs IST: Meanwhile, Poland have scored against Japan in Volgograd!
20:49 hrs IST: Colombia coach Jose Pekerman is getting anxious in the dugout.. If the scoreline stays, they will be out. They reached the quarterfinals the last time around in 2014 before losing to Brazil
20:46 hrs IST: Senegal's Niang has been booked by the referee.. it is a yellow for him!
20:42 hrs IST: But the South Americans are stepping it up in the second half
20:38 hrs IST: It's also goalless in the other game and as it stands Colombia are heading out
20:35 hrs IST:Back underway in Samara
20:25 hrs IST: Take a break. We will be back with the second half
20:20 hrs IST: Half-time and it is 0-0! The score is the same in the Japan vs Poland game
20:16 hrs IST: Chance for Senegal and..... not a goal again. We have three minutes of added time
20:12 hrs IST: We are heading towards half-time and the score looks like will remain 0-0 unless someone comes up with a something spectacular
20:10 hrs IST: And another Senegal free-kick goes waste
20:10 hrs IST: Senegal are creating chances but not being able to convert them. This could hurt them in the South Americans go on to score a goal
20:06 hrs IST: James seems to be injured which is why he was taken off. Shouldn't forget he was 2014 edition's top-scorer with six goals!
20:04 hrs IST: WOW! This is some change! Muriel replaces the talismanic James Rodriquez only in the 31st minute
20:01 hrs IST: Senegal on the counter-attack this looks promising.... but straight into the hands of goalie Ospina. The African team are attacking from the right flank
19:57 hrs IST: Falcao................. Oh! The ball just went over the Senegal bar! That was the closest attempt in this match yet! Things are starting to heat up now and Colombia attacking much more than they did earlier. Still 0-0 so far
19:54 hrs IST: So far Senegal have managed to make many more in-roads than Colombia. And here is another free-kick in the Colombian half for the Africans. Will they score? Straight into the hands of Colombian goalkeeper David Ospina
19:52 hrs IST: Foul.... will this be a penalty! VAR comes into play and..... no penalty! Colombia get a breather!
19:50 hrs IST: Being second in the group, Senegal only need a draw tonight but Colombia need a win for a Round of 16 spot
19:47 hrs IST: Japan currently top Group H with four points. They beat Colombia 2-1 and then drew against Senegal 2-2. Poland, on the other hand, have already been eliminated from the World Cup following back-to-back losses to Senegal and Colombia and are playing for pride against Japan
19:45 hrs IST: You can follow the live updates of the other Group H match between Japan and Poland here
19:40 hrs IST: Colombia, on the other hand, lost their opening game 1-2 to Japan but then defeated Poland 3-0 in their next game. They are currently third in the standings with one win and loss each and need to win tonight
19:35 hrs IST: Senegal defeated Poland 2-1 in their Group H opener but then drew against Japan 2-2. They are currently placed second in the four-team standings with four points and need a win tonight at the Cosmos Arena in Samara
19:30 hrs IST: It is play-time!
19:25 hrs IST: We are five minutes away from the match
19:15 hrs IST: Colombia registered their joint-biggest World Cup win in their 3-0 victory over Poland, also winning by three-goal margins against Greece (3-0) and Japan (4-1) in 2014.
19:04 hrs IST: STAT ATTACK - James Rodriguez has been involved in 10 goals in seven World Cup appearances for Colombia (six goals, four assists)
19:00 hrs IST: Hello and welcome to HT's live coverage of FIFA World Cup Group H match between Colombia and Senegal. Both teams need a victory to enter the pre-quarters
Senegal will be concerned by the potential of letting slip a favourable position, after kicking off the tournament with a 2-0 win over Poland and then being in command against Japan, but failing to secure all the points.
Colombia, the 2014 FIFA World Cup quarter-finalists, got their Russia 2018 campaign off to a torrid start -- losing to Japan 2-1. However, they cruised to a 3-0 win against Poland in Kazan on Sunday, eliminating their opponents and keeping their own hopes alive.