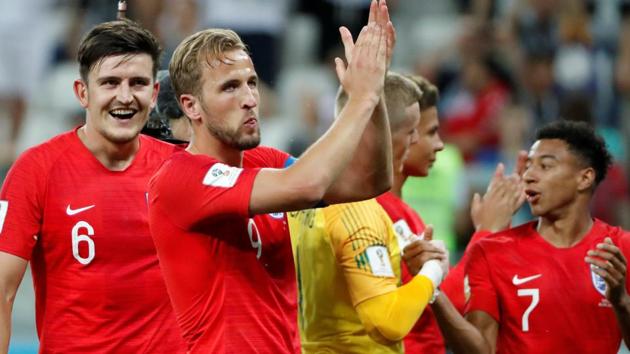 FIFA World Cup 2018: Tunisia coach praises England's match-winner Harry Kane
Harry Kane declared his arrival on football's biggest stage when he scored twice, including a stoppage-time winner, in a dramatic 2-1 victory over Tunisia in their FIFA World Cup 2018 opener.
UPDATED ON JUN 19, 2018 08:41 AM IST
Nabil Maaloul referred to Harry Kane as the "optimum striker" after the England captain sunk Tunisia with a late winner in Monday's Group G meeting in Volgograd.
Kane opened the scoring in the 11th minute - his first goal at a major international tournament - but Gareth Southgate's side were pegged back towards the end of the first half by Ferjani Sassi's penalty.
READ | FIFA World Cup 2018: Harry Kane proves the difference between England, Tunisia
It looked as though both sides would have to settle for a draw and falling two points behind Belgium, who defeated Panama 3-0 earlier in the day, until Kane nodded home at the back post in the first minute of stoppage time to earn a 2-1 victory for his side.
"He is one of the best attackers in the Premier League and this is why he is highly sought after by the highest clubs," Maaloul said in his post-match media conference.
"I do not need to talk about his performance, his performance is well known, I think he was behind the victory for England.
READ | FIFA World Cup 2018: Bug problem for England and Tunisia in Volgograd
"It was him who was always there at the right time and he is the optimum striker and scorer."
Despite defeat in their first finals appearance since 2006, Maaloul was not discouraged by Tunisia's display.
"The side has performed very well and we were able to defend for 90 minutes," he said. "It's true they [England] controlled the match towards the end, they have excellent, speedy players.
"They [Tunisia] were highly disciplined in terms of our tactics and very strong up to 90 minutes before we conceded the second goal.
"There was a lot of discipline. It's true we did not create a lot of opportunities but we will learn in the future. We were up against a highly skilled and coordinated team in terms of their forward players.
"Don't forget we had two injuries and [left-back] Ali Maaloul, we should not have given him the time we gave him. We thought we would give him 60 minutes but he played throughout.
"We were able to play head-to-head and a draw would have been an excellent result for us. We hope we can show more concentration in the upcoming games."
Close