FIFA World Cup 2018: Uruguay fans hope players deliver on 'teacher' Oscar Tabarez's lessons
Hindustan Times, Nizhny Novgorod |
Bhargab Sarmah
Jul 05, 2018 11:42 PM IST
Oscar Tabarez, who is now 12 years into his second stint as national team coach of Uruguay, would be hoping that his players put up a stellar show against France in the FIFA World Cup 2018 quarter-final.
"In Uruguay, Tabarez is God," said Nicolas, taking a swig of his beer outside an over-crowded pub on the Bolshaya Pokrovskaya Street on Wednesday night.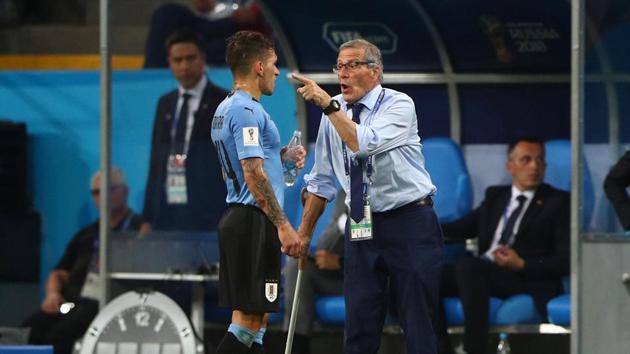 Building up to Uruguay's World Cup quarterfinal against France at the Nizhny Novgorod Stadium on Friday, a few hundred Uruguayan fans had headed to the city's most popular street. The pub could well have been in Montevideo as the La Celeste fans crowded into it for a few drinks.
The discussion was as much about Friday's game against France as it was about the health of head coach Oscar Tabarez. The 71-year-old tactician is not in the best of shape these days.
Needing a walking stick due to a condition which he describes as 'chronic neuropathy' (nerve condition), Tabarez has been a pale shadow of the vocal figure he used to be on the touchline until a few years ago.
"With his medical condition, it's difficult for him. But you won't find a single fan who doesn't want him to continue. We call him 'teacher' in Uruguay because there isn't one better than him," chipped in Federico.
Oscar, the coach's namesake and one of the older fans in the group, said Tabarez, who is now 12 years into his second stint as national team coach, has got the best out of the side.
"What he has done is create a process for players to get into the team. He has made us play good football but also wise football," he said.
Gregorio, however, was not very sure if Uruguay will be able to replicate their current showing in four years' time. "Whoever comes in to replace Tabarez, it will not be easy for him. This is the last World Cup for (Luis) Suarez and (Edinson) Cavani, at least as top players," he explained.
However, they were confident about Tabarez's team ahead of the France game.
"We may not have Cavani tomorrow, but we have a very good team this time. It will be difficult against France but it will not be easy for France too.
"Uruguay will always fight. We may be a small country, but we have big hearts. We call it garra (closest English equivalent is fighting spirit)," Gregorio said.
Not many have travelled from Uruguay this summer, albeit the ones that have are making their presence felt.
"I don't think there are more than 5,000 fans from Uruguay. It's not easy to travel so far and we are a small country. Maybe if we reach the final there will be a few thousand more," said Martin.
The final is some distance away but if Uruguay get past France, they will set up a semi-final against five-time champions Brazil or Belgium, like Uruguay looking to make talent in their ranks count.