FIFA World Cup: Senegal coach believes whole of Africa is supporting them
After best possible start against Poland, Senegal coach Aliou Cisse looks to Japan tie in the FIFA World Cup.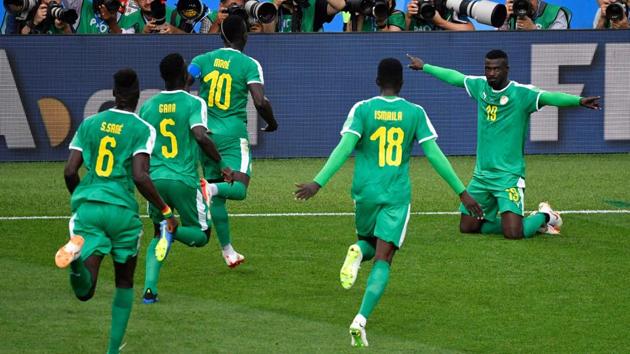 Updated on Jun 20, 2018 08:30 PM IST
Hindustan Times, Moscow |
Bhargab Sarmah
Not many fans have travelled from Senegal to Russia for the 2018 FIFA World Cup but for the few that have, it sure has been worth it. On Tuesday, Les Lions de la Téranga (Lions of Teranga) started their campaign with a stunning 2-1 win over Poland in a Group H game at the Spartak Stadium here.
"The Lions gave everything today. We are really proud of them," said Ahmad Elhadj, who is part of a group of 15 friends who have travelled from Dakar to cheer their team.
READ | Record-breaker Cristiano Ronaldo earns Portugal win as Morocco's FIFA World Cup hopes end
Victory in the opening game provided a major boost to Senegal's hopes of reaching the round of 16, and a jubilant Elhadj said he was confident of the side going well past the group stages.
"Of course, we are going past the group stages. Why do you think we are here? We are here to take the trophy to Senegal," he said.
Elhadj's cousin Aliou, sharing the same name of national team coach Aliou Cisse, didn't share his optimism but said he is hopeful of the side being able to match something similar to their 2002 campaign.
"We were confident ahead of this game. I think we can beat Japan. Even if we get at least two points from the next two games, we should get into the next round," he said.
Senegal's tiny group of fans had on Tuesday made themselves heard at the stadium with their uninterrupted rendition of the traditional Mbalax as the Sadio Mane-led side dominated proceedings against their more fancied opponents. The Mbalax is a traditional form of Senegalese popular music.
The support for Senegal, however, goes far beyond the thousand-odd vociferous fans inside the ground.
READ | Cristiano Ronaldo breaks Ferenc Puskas' European record during FIFA World Cup game vs Morocco
"I guarantee the whole of Africa is supporting us. I get phone calls from everywhere. We are proud to represent Africa," coach Cisse said, after the game.
Cisse will be aware of the kind of backing he can expect to receive throughout the tournament despite very few Senegal fans being on the ground.
In 2002, when he captained Senegal to the quarter-finals in a remarkable campaign, Africa rallied around the team coached by Bruno Metsu.
It was the same for Ghana in 2010 when the World Cup was held in Africa for the first time.
However, for Cisse's side to come anywhere near what they achieved in 2002, they must turn their focus to Japan next, who stunned group favourites Colombia in Saransk earlier on Tuesday.
READ | FIFA World Cup 2018: 10-year-old Indian boy creates history during Belgium-Panama game
"This victory means we have started the competition in the best possible way but we are not too euphoric because we know it will be a difficult game against Japan," said Cisse.
Close Story