Indian officials' presence in Saudi-led faction irks Asia's football bosses
Two senior officials of the All India Football Federation attended at a meeting in Jeddah last week. Saudi Arabia have formed a federation threatening the solidarity of the Asian Football Confederation.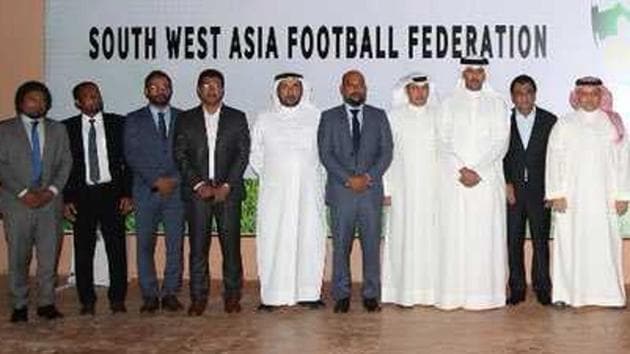 Updated on May 28, 2018 08:47 PM IST
Hindustan Times, New Delhi |
Bhargab Sarmah
The All India Football Federation (AIFF) has landed itself in a soup over its involvement in a Saudi Arabia-led faction -- South West Asia Football Federation (SWAFF) -- that has been formed in violation of rules framed by the Asian Football Confederation (AFC).
Well-placed sources revealed that the AFC has showcaused 10 member associations, including India, for attending a meeting in Jeddah last week, in contravention of article 10, clause 1 (p) of the AFC statutes. AIFF general secretary Kushal Das and senior vice-president Subrata Dutta attended the meeting.
The aforementioned AFC clause asks member associations 'not to form themselves into Regional Associations or federations without the consent of FIFA and the AFC'.
WATCH | FIFA World Cup 2018: Brazil squad composition raises questions
Senior officials of AFC refrained from coming on record on the showcause notices being served to member associations. Neither Das nor Dutta denied the development when queries were put to them over phone calls and text messages.
Hosted by the Saudi Arabia Football Federation (SAFF), the contentious meeting had taken place last Friday and included representatives of United Arab Emirates, Bahrain, Kuwait, Yemen, India, Pakistan, Bangladesh, Sri Lanka and Maldives.
Lure of money
Held ahead of Saudi Arabia's King's Cup final, the meeting had discussed the formation of SWAFF. According to a press release published on Saudi sports newspaper Arriyadiyah, the new body would be led by Saudi football chief Adel bin Mohammad Ezzat and 'will launch a series of programs and competitions aimed at raising the level of Asian football'.
India, on its part, would receive an annual grant of $500,000 for being part of the body once it gave its confirmation, insiders revealed.
READ | Bhaichung Bhutia criticises India coach Constantine for tinkering too much
However, Friday's event was held without the prior consent of AFC and curiously left out political rivals of Saudi Arabia, most notably Iran and Qatar. FIFA did not react to this controversial meeting.
Jordan, which had refused to cut off ties with Qatar following a Saudi-led blockade of the country, and whose prince Ali Bin Al Hussein had reportedly refused to move the headquarters of the West Asian Football Federation (which he heads and includes Saudi Arabia as a member) from Amman to Saudi Arabia, was also left out.
Other nations to be excluded were Palestine, Lebanon, Syria and South Asian countries Nepal and Bhutan.
Salman Bin Ibrahim Al-Khalifa, the AFC president, was also not present at the event in Jeddah. All these events had given rise to speculation that the new body had been formed by Saudi Arabia to undermine its regional political rivals as well as the AFC.
READ | Bengaluru FC need win vs Abahani, favour from Aizawl FC in AFC Cup
It has been learnt that the replies of the 10-member associations to the showcause notices would be put before AFC's executive committee before any decision is taken.
Pawn in west Asian tussle
It has further come to light that the decision to attend the meeting in Jeddah was made without the knowledge of the AIFF executive committee or the Union sports ministry.
The executive committee hasn't met since AIFF was dragged into a legal wrangle over its election last year.
When asked if AIFF had consulted the sports ministry, given the political hue of SWAFF, Dutta said that the AIFF would 'follow the directions of AFC'.
The Indian government, including the current dispensation, has over the years desisted from taking sides in middle-east's regional political disputes.
WATCH | Yaya Toure thanks Manchester City fans at title celebration parade
Given the fact that most royal families in gulf countries are heavily invested in football – for instance, AFC chief Salman and WAFF chief Prince Ali are both influential members of the royal families of Bahrain and Jordan, respectively - the national and regional football associations in middle-east are widely viewed as extensions of local political entities.
In such a scenario, India's involvement in a body that excludes some of its own key economic allies, may cause some embarrassment to the country's government.
Close Story