Jorge Sampaoli gets it right in Argentina's biggest test at FIFA World Cup 2018
Hindustan Times, Saint Petersburg |
Bhragab Sarmah
Jun 27, 2018 08:46 PM IST
Argentina profited against Nigeria from a line-up on Tuesday that was set up to propel Jorge Sampaoli's high-press game. He had been criticised heavily for fielding the 'wrong' elevens in the first two games of FIFA World Cup 2018
In the 82nd minute of Argentina's 2-1 win over Nigeria, Javier Mascherano suffered a bleeding facial injury following a collision with Ahmed Musa. With the game level, Argentina were on the verge of World Cup elimination.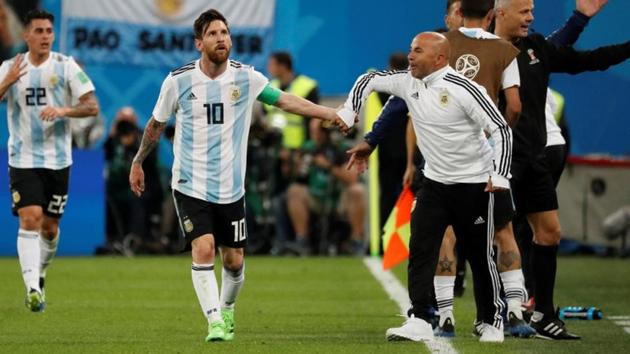 The doughty midfielder refused to leave the pitch to get medical attention. With blood dripping down his face, he stayed on until Marcos Rojo scored the winning goal a few minutes later, celebrated with teammates before heading to touch for attention.
READ | Create passes to Lionel Messi, he'll create opportunities for us in FIFA World Cup 2018: Jorge Sampaoli
Mascherano's resilience exemplified the determination of Argentina, who sneaked to victory to stay alive at the World Cup.
Argentina profited from a line-up on Tuesday that was set up to propel Jorge Sampaoli's high-press game. He had been criticised heavily for fielding the 'wrong' elevens in the first two games.
The Argentine tactician made five changes from the side that suffered a 3-0 humiliation against Croatia. Goalkeeper Franco Armani made his international debut, replacing the fumbling Willy Caballero while Eduardo Salvio, Marcos Acuna, Maximiliano Meza and Sergio Aguero made way for Marcos Rojo, Ever Banega, Angel Di Maria and Gonzalo Higuain.
FOCUS ON BANEGA
Banega, the 29-year-old Sevilla midfielder, not starting in the first two games had come in for criticism as Lionel Messi was left isolated without passes. The changes, Banega's inclusion in particular, had a visible effect as Argentina began strongly.
READ | FIFA World Cup 2018: Lionel Messi's got a new BFF in Ever Banega
The midfield, which looked fragile against Croatia, had a entirely different feel to it as Banega helped control proceedings alongside Enzo Perez and Mascherano.
With a four-man backline and three forwards up front – Di Maria started on the left and Gonzalo Higuain in the middle with Messi on the right – the midfield trio held sway in the middle.
In the 14th minute, it was Banega's pinpoint long ball from the centre that found Messi, whose right-footed finish handed Argentina a much-needed early lead.
Argentina failed to cash in on more chances until halftime and things
changed early in the second half when Nigeria were awarded a penalty after Mascherano was penalised for grappling inside the box during a penalty corner. Victor Moses converted it and Argentina were suddenly on the backfoot.
READ | FIFA World Cup 2018: How Lionel Messi's words inspired Argentina to victory over Nigeria
CHANGES WORKED
It was time for Sampaoli to ring in the changes again. At the hour mark, he brought on Cristian Pavon for Perez.
Pavon immediately injected pace in a team playing with a sense of urgency. Twelve minutes later, Sampaoli replaced Di Maria with Meza on the left before bringing on Sergio Aguero for Higuain with 10 minutes left.
Arguably the most lethal finisher in the team alongside Messi, it was Aguero who dragged away two defenders, allowing Rojo to roam into the box unmarked and score the winner off Gabriel Mercado's rightwing cross.
On a night when failure wasn't an option, Sampaoli finally got his tactics right. The chips were down when the players held a meeting after the loss to Croatia. It had led to speculation on the immediate future of Sampaoli.
The former Sevilla and Chile manager, however, indicated he listened to his players before putting out his team against Nigeria.
"The way I manage the team requires players to know on the pitch what we want to do in that exact game," he said. "I take the final decisions, but it's important to listen to the players and know what they think. Often the coaches' egos don't allow them to."
France will be a far greater test for Sampaoli.