Spanish flavour boosts Indian football
Published on Nov 25, 2018 12:14 PM IST
Five of the 10 teams began the Indian Super League (ISL) with coaches from Spain and four went there for pre-seasons. Of the 70 imports in the ISL this term, 21 are from Spain. At eight, Brazilians are second.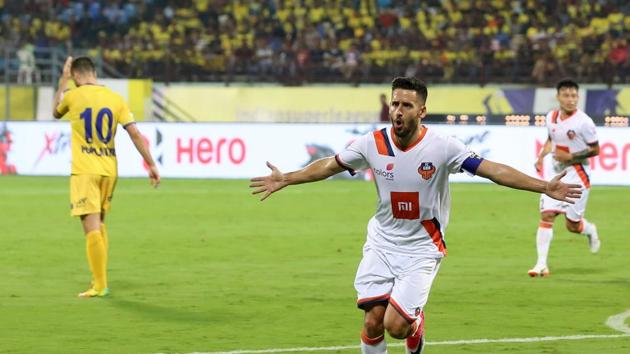 Divided by leagues, united by Spain: that seems to be the story of this football season in India.
Five of the 10 teams began the Indian Super League (ISL) with coaches from Spain and four went there for pre-seasons. Of the 70 imports in the ISL this term, 21 are from Spain. At eight, Brazilians are second.
In the I-League, Chennai City have four Spaniards, East Bengal have signed three. Having coached Celta Vigo, Racing Santander and Real Madrid Castilla, where he mentored Dani Carvajal and Alvaro Morata among others, Spaniard Alejandro Menendez Garcia, 52, is managing East Bengal this term. At seven, Nigeria and Spain have the maximum representation of foreign footballers in I-League.
When FC Goa hosted Bengaluru FC on Thursday, there were six Spanish players at kick-off and the teams had Spaniards as head coach. The number of Spaniards on the pitch was also six when Chennai City visited East Bengal and when Jamshedpur FC travelled to Bengaluru.
Also Read: Impressed with the standard of Indian football - FC Goa's Spanish striker Ferran Corominas
Shaji Prabhakaran, president Football Delhi and a former FIFA official, mentioned two reasons for this: ISL and La Liga. "ISL has spread information about football in India and La Liga is actively promoted here. La Liga's activity also sends a message back home about football in India," he said.
Leading the ISL scoring charts is FC Goa's Spanish striker Ferran Corominas with eight goals. "I think he (Corominas) is the best player in the league," said David James, the Kerala Blasters' coach.
In the I-League, Chennai City's Spaniard targetman Pedro Javier is the top scorer with four goals. Javier's teammates and compatriots Sandro Rodriguez and Nestor Jesus share the second place with four others on three goals as of Saturday. Of I-League leaders' Chennai City's 15 goals, nine have come from Spaniards.
Football can be divided into a time before and after Pep Guardiola took charge of Barcelona in 2008, former Italy and AC Milan coach Arrigo Sacchi said.
"It (Pep's appointment) has almost entirely conditioned the modern game from the top level to the grassroots…," wrote Miguel Delaney in The Independent.
Delaney talks about the Pep effect in football's uppermost strata but it won't be a stretch to say his influence has spread beyond Europe. Glimpses of that can be seen in how certain Indian clubs prefer a high line, playing from the back and try stringing a sequence of quick, short passes.
Bengaluru FC coach Carles Cuadrat played in Catalonia when Johan Cruyff was developing in Barcelona what Guardiola calls a 'beautiful church'. Delhi Dynamos' coach Josep Gombau managed Barcelona's youth teams from 2003-09. Sergio Lobera was a youth player at Barcelona when Guardiola was playing in the senior team.
"When Guardiola was a player, he was already thinking like a manager. I learned a lot from him," Lobera, given a year's extension by FC Goa, has been quoted as saying by goal.com. Proof that this is not an empty statement comes in FC Goa's stress on attacking football; they have scored 22 goals in eight games which is seven more than Jamshedpur FC who are the next best.
And Jordi Vila, whose contribution Chennai City FC coach Akbar Mohammad has acknowledged in getting their Spanish quartet, scouted for Barcelona. The way Jesus and Javier combined with Ajithkumar Kamaraj to string passes near East Bengal's penalty area also brought to the fore what Mohammad said he is striving for.
"The idea behind bringing the Spaniards was to also elevate the level of football the Indians in my team can play. So it is not just about what they do on the pitch, which, of course, is important, it is also about how they conduct themselves in training and off the pitch," he said.
Rodriguez, who scored off a delectable free-kick in the 2-1 win against East Bengal, Javier, Jesus and central defender Roberto Eslava were recruited after a month-long tour of Barcelona, Las Palmas, Tenerife and Madrid.
"That they have come in a group helps because lack of companionship can be a problem," said Prabhakaran. The deals were sealed by July, something that Shilton Paul, Mohun Bagan's goalie for 13 seasons, said usually benefits a team.
Unlike the ISL, which had a strong Spanish flavour from the first edition when Atletico Madrid became a co-owner, the I-League's most influential Spaniard would be Oscar Bruzon who coached Sporting Clube de Goa from 2012-14 . That has changed this term.
Personalise your news feed. Follow trending topics