Friday namaz 'disrupted' at 10 locations in Gurugram, no clashes reported
The protesters claimed that Muslim worshippers did not have permission to offer prayers at roadsides, parks, and vacant government land in the city.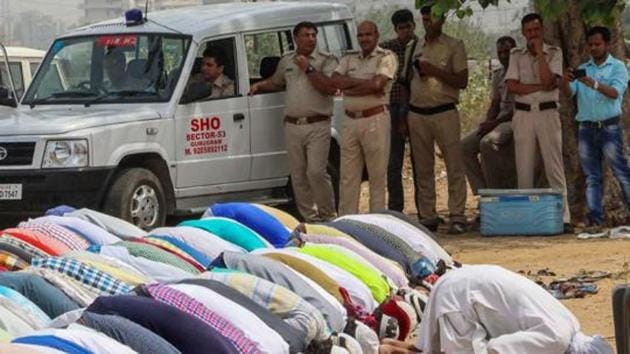 Updated on May 04, 2018 10:41 PM IST
Right-wing Hindu outfits on Friday allegedly "disrupted" namaz at 10 locations in Gurugram and said they would continue their protest if the administration did not stop unauthorised prayers in public spaces. However, there was no outbreak of violence due to a heavy presence of security forces, the police said.
The protesters, gathered under the aegis of 'Hindu Sanyukt Sangarsh Samiti', claimed that Muslim worshippers did not have permission to offer prayers at roadsides, parks, and vacant government land in the city.
The Samiti is an umbrella body of 12 Hindutva groups including Bajrang Dal, Vishwa Hindu Parishad, Shiv Sena, Hindu Jagran Manch, Akhil Bharatiya Hindu Kranti Dal and some other local groups.
Although some verbal disputes and slogan shouting was reported between the two sides at Sikarderpur, but officials said the situation did not turn ugly due to police intervention.
Samiti activists allegedly "fanned out" in the afternoon and disrupted Muslim worshippers, members of the Muslim community claimed.
Namaz was also not offered at the disputed site in Sector 43, where a flare-up had happened on April 20 after a group of eight men had allegedly disrupted namaz. Police officials said that six of the eight men had been arrested.
Muslim leaders said they had met senior police officials on Thursday and agreed that they would not offer namaz at the disputed sites in Wazirabad, Sikanderpur and Atul Kataria chowk.
"Why were our people attacked at 10 different places? I don't understand why these elements are being given a free hand", said Haji Shehzad Khan, who filed the police complaint in the Wazirabad matter. He added that they did not offer prayers at the disputed site.
Rajiv Mittal, a Sanyukt Hindu Sangarsh Samiti leader, said group members went to Atul Kataria chowk, Sikanderpur, in Sector 40 and to MG Road to stop the namaz. "We have nothing against Muslims, but we want law to be implemented in the city. The Muslim worshippers did not have any permission to offer prayers and it is against the rules," Mittal said.
Khan, however, said there were 7 lakh Muslims in Gurugram and only 22 mosques, so they are usually left with no option but to offer prayers in open spaces. "We are not disturbing anyone", he said.
Khan said Muslim leaders will meet on Saturday and chalk out the future course of action. "We don't want to create tension but a way forward must be found," Khan said.
He alleged that Hindu activists had threatened worshippers at Sikanderpur.
The police however said that they had deployed adequate force to prevent any untoward incident from happening. "Law and order is under control", said Ravinder Kumar, Gurugram police's public relations officer. He added that it was the prerogative of district administration to give permission for Friday prayers.
Close Story