Gurgaon civic polls: BJP loses clear mandate but set to form the house
Updated on Sep 25, 2017 08:44 AM IST
Of the total 35 wards, independent candidates won 20 seats while one went to Indian National Lok Dal (INLD).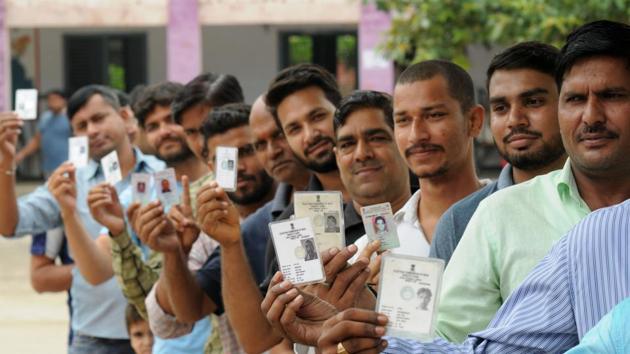 The ruling Bharatiya Janata Party (BJP), which was confident of winning at least 30 of 35 seats in the Municipal Corporation of Gurugram (MCG) elections, was limited to 14 seats on Sunday as independent candidates disturbed their apple cart. The party is, however, set to form the house and will also install its member as the mayor.
Of the total 35 wards, independent candidates won 20 seats while one went to Indian National Lok Dal (INLD).
While BJP leaders are claiming to form the board in the corporation with the support of independents, political experts are of the opinion that its failure to garner a clear majority in the civic body polls must be considered a defeat.
For forming the house, at least 19 members are required. Of the 20 independent candidates, at least seven are close to senior party BJP leaders and are likely to join the party by tomorrow.
They contested as independents after they were denied party tickets. According to party insiders, they were supported in the elections by BJP leaders from behind the scenes.
"The mayor will be of the BJP and the party will gain the majority as a number of independents will support the party," said Rao Narbir Singh, public works department minister, after the results were declared on Sunday evening.
Party insiders said that those who are likely to support or join the party include Ashwini Sharma of ward 19, Kusum Yadav of ward 35, Mahesh Dayma of ward 30, Mithilesh Kumari of ward 1, Naveen Dahiya of ward 12 and Sheetal Bagri of ward 10.
The party leaders have also started wooing other independents to secure the majority in the house.
Congress did not contest on party symbol but supported 14 candidates, of which three won — Seema Pahuja of ward 15, Rajni Sahni of ward 17 and Pramilla Devi Kablana of ward 9. Pahuja and Rajni were also supported by the INLD.
Ashok Tanwar, the president Haryana Pradesh Congress Committee, said the result would have been different if the Congress' candidates had been allowed to contest on the party symbol.
"The results are a clear indication that if Congress had contested on the party symbol, the party would have won 25-30 seats and would have got Mayor also. The results are an indication of the public's rejection of BJP and INLD, who were hobnobbing and fighting with each other," said Tanwar.