Gurugram residents face 17-hour power cuts as infra buckles under load
Sumit Bhatia, president of the Sushant Lok residents' welfare association (RWA), said, "Four transformers have been damaged in the past month, and we spent money from own pockets to repair them.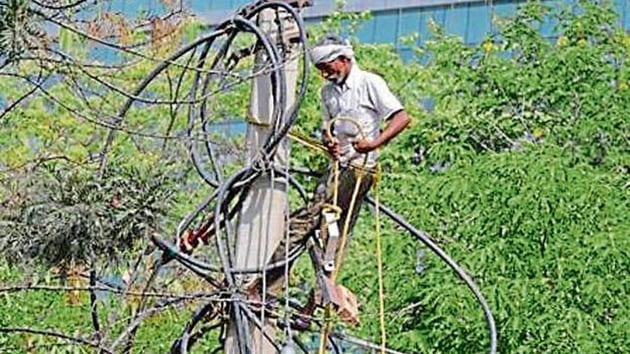 Published on May 16, 2019 03:04 AM IST
Even as mercury levels continue to rise, transformer blasts, voltage problems and frequent tripping are ongoing disruptions to power supply in the city, with the discom facing flak from residents for failing to improve the situation. The Dakshin Haryana Bijli Vitran Nigam (DHBVN), however, maintains that the city has adequate power to meet the summer demand.
On Wednesday, nearly 250 houses in Block C of Sushant Lok 1 had to spend 17 hours — from 12.30am to 5.15pm — without electricity after a blast in the 625KVA transformer in the area. Residents said they spoke to DHBVN officials, but claimed they did not get a positive response. Around 300 houses in the same block spent 12 hours without power on April 19 this year, after a blast in a 400kv transformer.
Sumit Bhatia, president of the Sushant Lok residents' welfare association (RWA), said, "Four transformers have been damaged in the past month, and we spent money from own pockets to repair them. After the blast in the 625kva transformer, we have rented a 1,000kva transformer at ₹2,000 a day because new transformer costs ₹20 lakh, which we cannot afford, and the DHBVN has refused to help."
He said the RWA has spent about ₹5-6 lakh on repairs of damaged transformers. "We will be forced to take to the streets if we do not get a concrete response from DHBVN by the end of this month," Bhatia said.
Power faults have been causing power cuts since the start of the month, when the city consumed the maximum electricity so far this season — between 2.52-2.76 crore units per day.
Demand is expected to rise further as temperatures rise. The peak demand was on June 15 last year, at 3.35 crore units.
Between April 28 and 30, residents of Palam Vihar spent 48 hours without power after a blast in a 400kva transformer. The DHBVN collects electricity bills from residents the area, but is not in charge of maintaining electricity infrastructure, saying the builder has not yet transferred the same to it.
The Gurugram Metropolitan Development Authority (GMDA) had suggested that the discom charge an additional ₹150 to maintain infrastructure, but the plan did not materialise.
Similar problems also plagued South City 1 last month.
Sushil Gupta, a resident of the area, said, "We contributed to repair a transformer in Block M, which was damaged a month ago. We need two additional transformers to ensure unhindered supply, but the DHBVN has not done what was required."
Residents of New Palam Vihar, Sector 56, and DLF 3 also said they suffer from erratic power supply, tripping and low voltage.
The DHBVN caters to around five lakh consumers, spread across 600 group housing societies, 35 villages, more than 50 municipal colonies, 75 unauthorised colonies and sectors 1-57. Power theft has also been a major concern for the discom.
To upgrade distribution to zero error fault, the DHBVN, on April 10 last year, began the Smart Grid project to transfer all overhead electricity cables underground. However, two underground feeders that were to be commissioned on April 10 have not yet been commissioned.
DHBVN chief engineer Sanjiv Chopra said, "Sushant Lok and Palam Vihar and other private areas have been transferred to the Municipal Corporation of Gurugram, but electricity maintenance in these localities is still with the developers for technical reasons, which is why we cannot extend help in case of transformer blasts. In other areas, our supply is smooth. Some faults have developed in case of strong wind and rains, which we solve."
Sushant Lok, Palam Vihar and South City were developed in 1990s and electricity infrastructure was laid according to the population of the time.
Private developers had transferred these localities to the concerned RWAs three to four years ago for day-to-day maintenance. However, electricity maintenance continues to remain with the developers.
Close Story