NGT asks birders to approach state govt to get Basai status of wetland
Dec 14, 2017 11:26 PM IST
The birders are upset over the MCG's plans to build a construction and demolition waste processing plant near the site and they had petitioned in the green court that this project could destroy the habitat of birds
The National Green Tribunal (NGT) on Thursday asked the petitioners in the Basai wetland case to approach the Haryana government in order to get the proposed site declared a wetland. The tribunal said it was the prerogative of the state to decide on the nature of the land.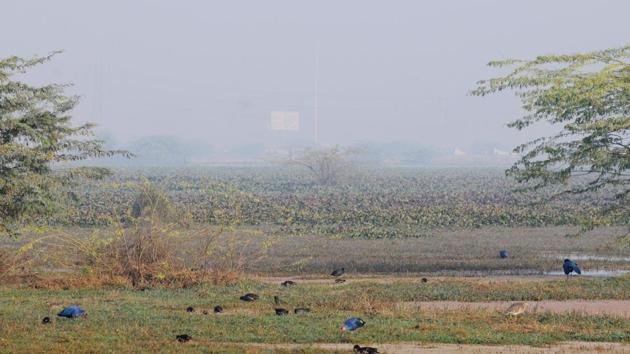 While the court did not oppose the proposal of the Municipal Corporation of Gurugram (MCG) to build a construction waste processing plant in Basai, but it gave the petitioners time till January 3, to file their response to the report filed by a local commissioner appointed by the NGT to decide if the spot qualifies to be declared a 'wetland'.
Pankaj Gupta, a birder from the Delhi Bird Foundation, who along with others had approached the NGT, said they will now collect documents and approach the appropriate authorities in Haryana government to get 'Basai' declared a wetland.
"We had sought time from the NGT so that a reply can be formulated to what the local commissioner has submitted in his report. All efforts will be made to file a reply and approach the state within the next few days," he said.
The report filed by the local commissioner had said the site at Basai may be called a water body where birds come but he refrained from calling it a "wetland". Birders in Gurgaon are trying hard to save the Basai wetland as a large number of migratory birds from across the world arrive there during the winter.
The birders are upset that the MCG plans to build a construction waste processing plant near this site and they had petitioned in the green court that this project could destroy the natural habitat of the avians. According to the birders, the 700-acre area presently has more than 2,000 birds, including the gadwall, mallard, ruddy shelduck and the common pochard.
Sudhir Chouhan, STP, MCG, said, the NGT had agreed that there is no wetland in Basai and it has given the next date on January 3, to file written views on the local commissioner's report and apply to any agency with their grievance.
Ravinder Kumar, an official of the Noida authority, was appointed on December 1 as the local commissioner by the NGT.
Kumar in his report had said: "The absence of water channels or appreciable gradient towards direction of the fish pond clearly suggests that the project land (C&D plant) would not qualify as part of the catchment area".