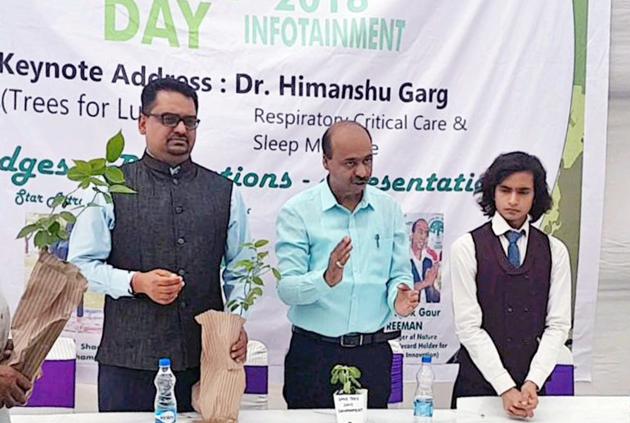 Residents pledge to plant more trees on Earth Day
Deepak Gaur, known as the 'Tree Man', championed a drive on the day to gift trees and make residents plant them
UPDATED ON APR 22, 2018 11:29 PM IST
Residents and organisations observed World Earth Day on Sunday, promising to boost greenery in their immediate surroundings and shun plastic.
Deepak Gaur, popularly known as Tree Man, led a drive called 'Pledge Tree' to gift trees and make people plant them in an event held at Artemis hospital. Members of several residents' welfare associations (RWAs) attended the event.
The saplings were gifted to the participants to make their own areas 'Green and Clean'. Explaining the benefits of plantation, Gaur called trees as conservators of land, water and air.
"Don't go for high quality oxygen masks, just plant an oxygen cylinder — a tree in future," he told the gathering. Dr Himanshu Garg, head of respiratory care at the hospital, was honoured for his articulation of "Trees for Lungs", a presentation on the importance of trees for healthy lungs.
Tejasvi Sharma, who has been acknowledged and honoured in various countries for his exceptional Yog Gymnast skills, also displayed his moves.
On the eve of the Earth Day, PWD and forest minister Rao Narbir Singh had said people should plant more trees near their houses and take care of them.
"This is the era of Information Technology and the use of paper should be kept to a minimum. Invitations for marriages and other occasions could be sent via WhatsApp and other social media platforms instead of printing cards," Singh said. He also administered an oath to the people present on the occasion to cut down on the use of paper.
Read I Municipal Corporation of Gurugram to start door-to-door waste collection from Dec 2
Speaking at an event , 'Paryavaran Gaurav Samman', held in an open theatre in Sector 29 on Saturday evening, the minister appealed to the people to plant more trees this monsoon and contact the forest department for saplings. People and students working for environment protection were awarded on the occasion.
Real estate firm Emaar India planted saplings at its various project sites in Gurugram on Sunday and started an 'I Pledge' campaign for residents, office employees, project site staff and construction workers.
Mera Pyar Gurugram Welfare Society and Smart Skill Maruti Training Centre carried out a cleanliness drive at Sheetla Mata temple. Former deputy mayor Parminder Kataria exhorted people to take up cleanliness drives in their surroundings.
Close