Waste collection firm's legal notice enrages factory owners
The notice has united industry owners of Udyog Vihar who are not happy with the waste disposal by Ecogreen.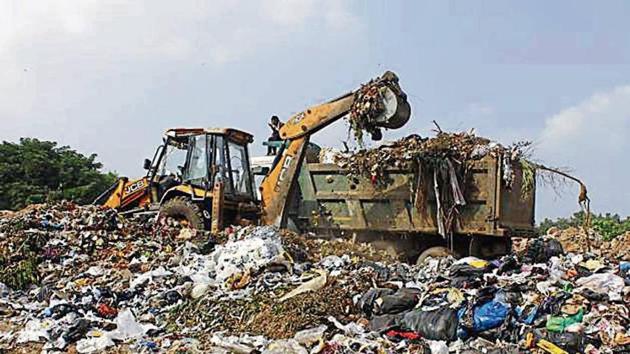 Published on Sep 19, 2018 05:08 AM IST
Legal notices sent by Ecogreen Energy to factories in Udyog Vihar Phase 5 about a week ago have evoked a sharp reaction from the industry owners. In its notice, Ecogreen — Municipal Corporation of Gurugram's concessionaire to collect garbage — has threatened a factory owner that it will move court if the factory owner does not comply with rules that waste should be handed over to the firm within the specified time.
Paresh Nayar, owner and director of Kish Export, Udyog Vihar Phase 5, said, "We received a legal notice about a week back from Ecogreen that has asked me to reply within 15 days. The notice says that we are not giving waste to Ecogreen vendors. We will reply to the legal notice soon."
The notice has united industry owners of Udyog Vihar who are not happy with the waste disposal by Ecogreen. The industry owners have complained twice to the Municipal Corporation of Gurugram (MCG) that the waste collection site at Udyog Vihar 1 near Delhi-Gurugram border always remains choked and poses health hazard to factories located nearby.
"My security guards told me that the Ecogreen workers had been asking for scrap. We sell scrap to some other vendors because it has a resale value in the market and that we cannot give to Ecogreen free of cost," Nayar said.
However, Ecogreen notice does not mention scrap in its legal notice.
Ankit Agarwal, chief executive officer, Ecogreen Energy, said: "The legal notice is not about scrap. As per solid waste management rules 2016, all waste generators have to hand over waste to the authorised waste collector only."
"Though most of the waste generators are giving waste to authorised collector such as Ecogreen, some of them are still disposing waste by giving it to unauthorised collectors in violation of the rules. This results in open dumping of garbage at various places in the city. The intention of Ecogreen is to eliminate open dumping by unauthorised waste collectors. Efforts are being made to cover all waste generators for our door to door waste collection service," he said.
The industry owners are mulling over giving a representation before the MCG commissioner Yashpal Yadav.
Animesh Saxena, industry owner, said, "Ecogreen is trying to control scrap business in Udyog Vihar. It has sent such reminders to two other factory owners earlier. Ecogreen is not doing its own job as entire city is full of waste. We will update the MCG in this regard."
The MCG commissioner said the corporation is mulling action against Ecogreen as many complaints have been received from residents against the company.
In July, Ecogreen had sent such notices to several RWAs in Regency Park 2, DLF Exclusive Floors and some other condominiums, asking them to give their waste only to Ecogreen. The move was opposed by RWAs, stating that they wanted to continue their old waste management system.
Close Story