Ryan case: Haryana government issues safety guidelines for schools
Schools to make students aware about good touch and bad touch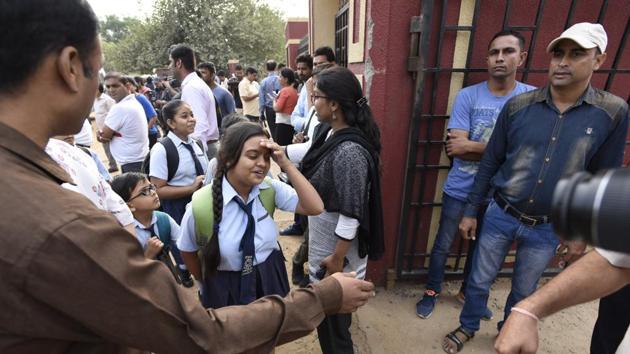 Updated on Sep 18, 2017 11:02 PM IST
In the light of the murder of the eight-year-old Ryan International student, the state government has approved safety regulations for all the schools in Haryana.
All schools will have to mandatorily install CCTV cameras at entry and exit points, in corridors and staircases, library, infirmary, auditorium, inside elevators, dining halls, sports rooms, computer labs, entrance to classrooms, toilets, sports fields, swimming pools and areas where buses are parked.
Schools in Haryana will have to take steps in generating awareness among students on 'good touch and bad touch' as well as risks pertaining to the internet and social media.
A spokesman for School Education Department said on Monday that all schools would have to constitute a district safety committee under the chairmanship of deputy commissioner, committees at sub-divisional level headed by the sub-divisional magistrate and school safety committee under the chairmanship of the principal to ensure implementation of the regulations on safety norms and provide for a mechanism whereby supervision of schooling will be ensured.
Besides, as part of a number of safety measures for school buses, drivers have to attend a refresher training session every 6 months.
"There should be separate toilets for students and the support staff," said the spokesperson.
Only women staffers will manage the toilet and no male staff member would be present and allowed inside toilets. No male toilet cleaner or attendant will be allowed inside.
"Students must be trained to be wary of strangers and should not talk to them or go anywhere with them. The department will raise awareness about bullying, sexual or physical abuse from a tender age. Students should be told that lewd acts could be committed by not just strangers but also by people they know or are familiar with," he said.
Read I Ryan student murder: School reopens today, victim's father says evidence might get erased
Also, in all girls' schools, the school counsellor has to be a woman.
However, in the event of any case of abuse or physical injury to a child on the school premises, it is mandatory to bring the incident to the attention of the local police station.
In case the managing committee fails to comply with the directions given under rule 189, the director may withdraw recognition of the school.
"We will take over the managing committee of the private school and initiate criminal action for disobedience of an order lawfully promulgated by a public servant under the relevant Sections of Indian Penal Code," he added.
Important pointers:
Safe School Campus as a student spends a large part of his day in the schools.
Entry/ exit of all persons in the school should be logged clearly
Identity cards should have a photograph of the child with name, class and section, blood group, names and mobile numbers of parents.
Awareness and Publicity to create an awareness among all sections of personnel associated with a school
Yell, Run and Tell - this simple mantra must be taught to every child.
Good touch, Bad touch - a child, even as young as 2 or 3 must be told about the difference between good touch and bad touch.
Stranger safety- children from a small age, even as young as two, must be trained to be careful of strangers
Awful acquaintances: Children should also be made aware that it is not only strangers who may cross the line with bad touch, but it is often known persons as well who could do this
Internet hazards and importance of not disclosing personal details to internet strangers
Elimination of suppression- It is wrong that many children believe that it is better to remain silent rather than report an offence
Close Story