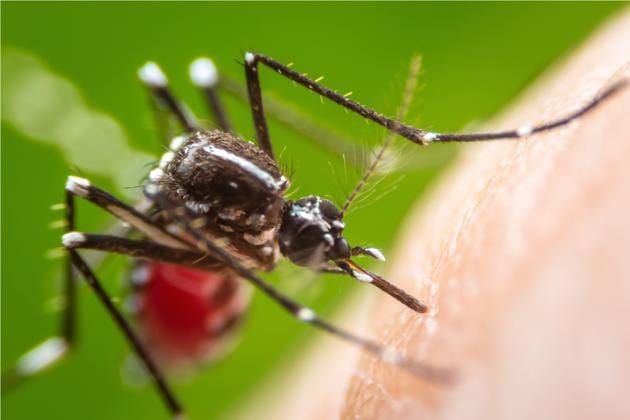 Dengue mosquito can spread chikungunya and zika viruses in one bite, finds study
Aedes aegypti, the day-biting mosquito that spreads the dengue, chikungunya and zika, can co-infect people with all three viruses in one bite. Zika has not been reported in India yet, but co-infection with dengue and chikungunya is reported during each outbreak.
UPDATED ON JUL 10, 2017 07:19 AM IST
Aedes aegypti, the day-biting mosquito that spreads the dengue, chikungunya and zika, can co-infect people with multiple viruses in a single bite, found a study from Colorado State University (CSU) in the US.
Though India hasn't recorded a zika outbreak, co-infection with dengue and chikungunya is known to happen during outbreaks in India. "A mosquito, in theory, could give you multiple viruses at once," said Claudia Ruckert, post-doctoral researcher in CSU's Arthropod-borne and Infectious Diseases Laboratory.
Chikungunya, dengue and zika viruses are transmitted to humans by Aedes aegypti mosquitoes, which are day-biting mosquitoes found across India.
The first chikungunya and dengue virus co-infection was recorded in 1967. More recently, co-infections of all three viruses have been reported during various outbreaks, including the recent outbreak of zika virus in North and South America.
Ruckert said the research team found that mosquitoes in the lab can transmit all three viruses simultaneously, although this is likely to be extremely rare in nature. "Dual infections in humans, however, are fairly common, or more common than we would have thought," she said.
Her team infected mosquitoes in the lab with multiple kinds of viruses to learn more about the transmission of more than one infection from a single mosquito bite. While they described the lab results as surprising, researchers said there's no reason to believe that these co-infections are more severe than being infected with one virus at a time. Existing research on co-infections is sparse, and the findings are contradictory.
CSU researchers had expected to find that one virus would prove to be dominant and outcompete the others in the midgut of the mosquito where the infections establish and replicate before being transmitted to humans.
All three infections cause flu-like symptoms -- fever, joint and bone pain, headache -- with dengue and zika also causing skin rash. The Brazil outbreak showed pregnant women who got infected with Zika virus risked giving birth to babies with small head and incomplete brain development (microcephaly).
The team now wants to examine yellow fever, a fourth virus that is carried by Aedes aegypti, as a possibility for coinfection with chikungunya, dengue or Zika viruses. Yellow fever virus is found in tropical and subtropical areas in South America and Africa.
Close