Injection drug users at four times higher risk of Hep C than HIV: UNODC
Updated on Jun 26, 2017 11:57 AM IST
There are about 12 million people in the world who inject drugs, of which 6.1 million have contracted Hep C while 1.6 million suffer from AIDS and 1.3 million users suffer from both diseases.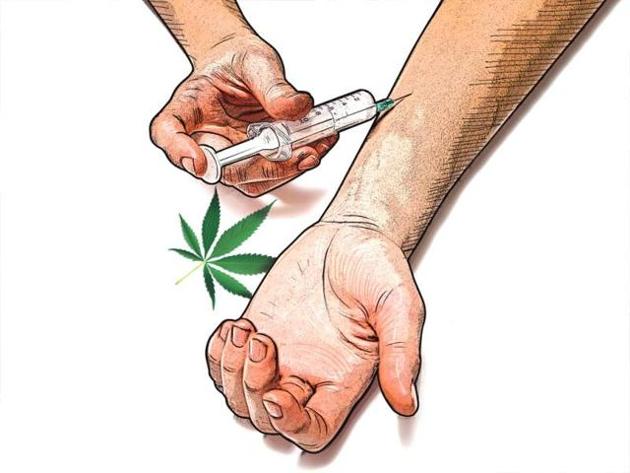 Three times more people who use drugs die from Hepatitis C (222,000) than from HIV (60,000), a new United Nations Office on Drugs and Crime report found.
Injection drug users (IDUs) are also at four times higher risk of contracting Hepatitis C than AIDS, the report released to mark International Day against Drug Abuse and Illicit Trafficking, said. For drug abusers who inject drugs, about half are at risk of getting Hepatitis C, one in eight are at risk of contracting AIDS, and one in twelve are at risk of getting both infections.
Almost 30 million people suffer from drug abuse-related disorders across the world. Not only does drug abuse cause disease and disability directly , the way it is administered is also a cause of concern. Globally, almost 12 million people inject drugs directly into their bodies, according to best estimates from the UNODC. Using infected needles leads to the transmission of diseases like AIDS and Hepatitis C.
About 6.1 million IDUs suffer from Hepatitis C, 1.6 million are afflicted with AIDS and 1.3 million suffer from both. In South Asia, there are almost 3 lakh people who inject drugs out of which 18,000 have been infected with HIV, according to best estimates by the UNODC. There is a higher rate of increase in the burden of disease (2005-2015) worldwide from drug use among women than men globally, for women the rate of increase is 25% while for men it is 19%.
Between 2004 and 2014, over 25,000 people committed suicide because of drug addiction-related issues, which translates into 2542 suicides in a year, and 7 suicides a day, according to a Hindustan Times analysis.
Cannabis appears to be the drug of choice among drug abusers in India with 33% of those treated for drug addiction using the drug, according to a report by UNODC admitting to its use. However, less than 10% of drug abusers actually receive treatment in India.
Charas, ganja and bhang are forms of or derived from cannabis. However, bhang drinkers are not technically breaking the law in India. The drink popular among Holi revellers is prepared by mixing a paste of ground cannabis leaves in milk. Under the Indian Narcotic Drugs and Psychotropic Substances Act from 1985, only certain derivations from the cannabis plant are outlawed. Cannabis leaves are not one of them.
This reflects the global pattern where the largest number of people indulge in cannabis abuse (183 million) of the 255 million who were estimated to be using drugs in 2015.
Personalise your news feed. Follow trending topics