Living in pain, and in fear of the pain: My struggle with endometriosis
Hindustan Times |
Lakshmi Sharath
Mar 31, 2018 06:01 PM IST
My life was taken over by the disease, my mind crippled, my confidence dented. Over the years, I rediscovered faith. Every day is still a battle. I live on hope.
"Is this like a cancer," I asked my gynecologist, trembling in pain and in panic. "No, but it can tear your life apart," she said softly.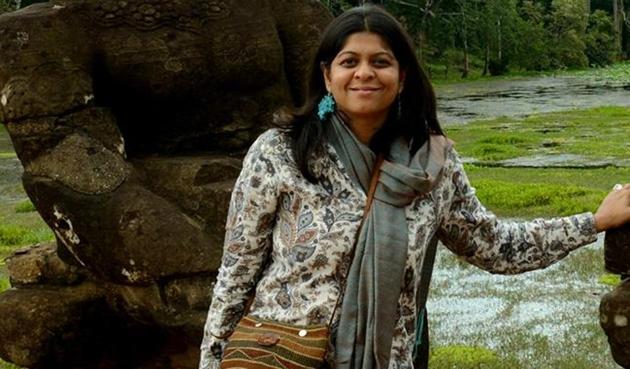 Almost every day of the last ten years, I have lived in fear, in pain and in anticipation and fear of the pain. I don't remember my first ever pain attack. Perhaps it was in my early teens when I came home crying from school and had to take an injection. In my mid-20s, I remember doubling up in pain as I sat in a tiny, edit studio in the middle of the night, freezing in the cold. There was the 3 am pain during one of my trips to a remote wild destination in Karnataka when I screamed as the sharp pangs woke me. But no one told me then that I was living with a monster called endometriosis, until a decade ago.
It was a warm summer afternoon. My husband was travelling and I was feeling like my abdomen was being torn apart or jabbed repeatedly with multiple knives, all at the same time. The pain was radiating to my legs and my lower back. It was not a uterine cramp as I did not have my period. I collapsed in pain and almost fainted. Slowly I managed to get myself admitted to a hospital. The scans did not show anything until my gynecologist identified a ruptured follicle and suspected endometriosis. As I was gasping for breath, she insisted we do surgery immediately.
That was the first time I had heard the word endometriosis, a disease that attacks over 175 million women worldwide and yet has very little known about its causes. It was also the first of many laparoscopic surgeries. A chocolate cyst made up of dried blood was removed, some adhesions scraped away. I was 36, was on sabbatical from my media career and had just plunged headlong into another career — that of traveller, travel writer and blogger. I had no idea then that my life would be completely taken over by a disease, my mind and body crippled with pain and my confidence dented in the years to follow.
It has been a decade of pain, surgeries, invasive treatments, biopsies, fertility treatments. The paralysing pain has attacked while I was travelling, while I was at home, during my periods, during a wedding, in a temple, in the middle of the road, while planning to meet friends, while heading out for a meeting, at midnights and in the wee hours. The unpredictability shook me. I began to get anxious and depressed. Began to avoid travelling. I did not want to be a spectacle, suffering from pain among strangers in a foreign land. I would make excuses to avoid people.
I was diagnosed with Grade 3 and eventually developed Grade 4 endometriosis. I developed crippling lower back pain, migraines, constipation, thyroid imbalances, IBS, gastric disorders, pelvic infections, and that's not even the whole list. I became emotional, vulnerable and weak.
I tried alternative therapies and Ayurveda., detoxed and changed my diet. I rediscovered faith. My supportive doctors insisted I never give up on travel. They saw it was a panacea to my pain. Every trip was an escape into a world without endometriosis.
I am grateful to a few friends and family and a very supportive husband who has lived through my trauma. I joined international support groups online and that made me realise that we needed one in India too. So I started a support group on Facebook and we discuss everything from pain to periods.
I was not comfortable writing about my experience, letting the vulnerable and the personal side of my life into the public eye. And yet I wanted to share my story, because endometriosis is more an ordeal than a disease. It is an ongoing struggle faced by women all over the world, whose pain is often not even diagnosed. To me every day is still a battle – will I let the pain and the fear of pain get the better of me. I live on hope and a prayer that someday I will be free from pain.