Meet 17-year-old Prashaant Ranganathan, winner of the Intel international environmental engineering award
May 23, 2017 01:07 PM IST
The 17-year-old won an award at the Intel international Science and Engineering Fair for developing a way to biodegrade a widely-used pesticide in India more effectively.
As part of a school project when Prashaant Ranganathan, a student at Carmel Junior college school in Jamshedpur, visited fields neighbouring the city, he was struck by a modern myth. Farmers believed their yield was proportional to the amount of pesticides they used. Their fields were awash with chemicals.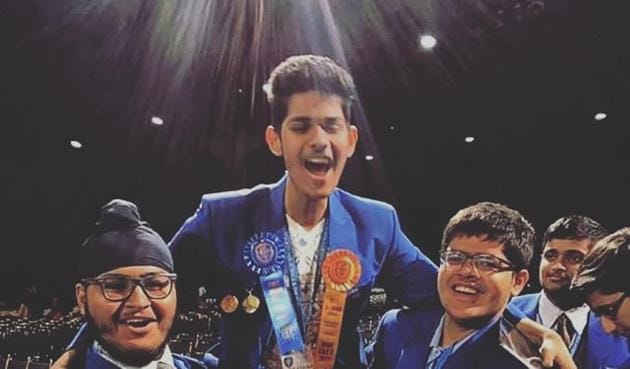 "Sometimes you could even smell the pesticide in the air," Prashaant recounted. It left him disturbed and worried. The effects were blatantly visible to the 17-year old, the farmers hadn't seen a single beehive around their farms for almost two years. Using excessive pesticides can have wide-reaching impacts not just on the targeted species but others that depend on the ecosystem.
Stay tuned with breaking news on HT Channel on Facebook.
Join Now
He knew it was a problem."This is really scary because bees pollinate nearly a third of the food we consume and without them, we would descend into a terrible food crisis," he said. This anxiety about an impending food crisis also underlies the ongoing debate in India surrounding Genetically Modified crops that our food crop productivity is not keeping pace with population growth. GM food is an extreme technological solution to the problem.
"This is where I got my motivation to work to solve this problem which is plaguing farms across India and the world," he said. That motivation has taken him far. Last week he won one of the most prestigious international science prizes for pre-college students. His project was the winner in the environmental engineering category of the Intel international Science and Engineering Fair.
Prashaant has developed a more effective way of breaking down chlorpyrifos, an ingredient in pesticides that kill ticks and mites. In India, it is the only low-cost termiticide available after Aldrin was banned, because of its reported use in lethal doses in farmer suicides.
An organophosphate compound, chlorpyrifos, can also be moderately toxic to humans, especially for children. The U.S. Environmental Protection Agency has restricted the use of chlorpyrifos and is reviewing its neurodevelopmental effects. Its use is regulated and even banned in many countries.
In India, the biggest problems are the unchecked use and the lack of regulatory oversight. "Pesticides are used on a wide scale here farmers are able to use them directly," Tanu Jindal, director at Amity Institute for Environmental Toxicology, said. "Our farmers are generally not well educated and get misled by industry representatives."
Let alone rural populations, even in urban areas people tend to ask for termiticides to used in liberal quantities as part of pest control measures. "There is no need to use pesticides on such a large scale. We should use them when there are absolutely other alternatives," Jindal added.
Use of pesticides might be a necessary evil, the problem is that they persist in the environment. In general, only 1 percent of the pesticides that are sprayed go to their target, the rest goes into the atmosphere, according to Jindal.
"Extensive use of chlorpyrifos contaminates air, groundwater, rivers, lakes, rainwater and fog water," a 2015 paper that Jindal co-authored, found. "The over usage of chlorpyrifos is alarming in view of high persistence and its toxic effects on the living system. "
This is why efforts like Prashaant's are important. "My project was on biodegradation of chlorpyrifos using native soil bacteria and Triton X. In which I used bacteria which was already found in the soil and increased​ its efficiency of biodegradation using a non-ionic detergent," explained Prashaant.
Jindal, however, pointed out that the real challenge is applying these solutions in the fields. If there is a high concentration of chlorpyrifos in fields and water bodies the real question is how to apply the bacteria-based solution to the affected landscape.
The 17-year-old may not have all the answers now but he is planning to persist in his undertaking. The prize money he has won with the Intel award will go towards his education. He plans to study biology in college.
He made an early start. As a 4-year-old, experiments like growing peas in plastic cups kindled his interest. He went on to work on projects including developing an iron-based fertiliser, using a commonly found fungus to rid industrial effluents of carcinogenic chromium ions.
The Intel award has spurred him on. "It opens more opportunities to develop my project and get the word out and a chance to inspire the younger generation," he said. "Winning ISEF enables me to work with people and institutions I look up to and admire, which makes me move closer to my bigger goal of making a difference through science, which I guess is cool. "