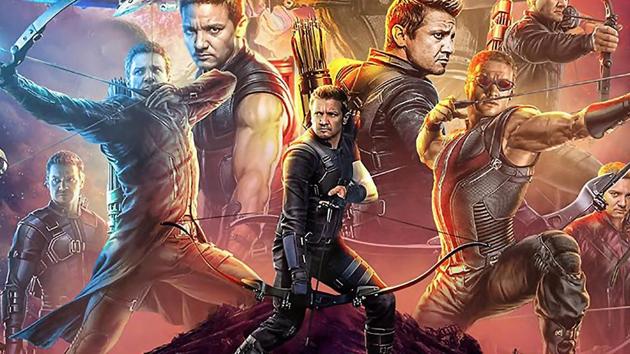 Avengers Infinity War: Where is Jeremy Renner's Hawkeye? We can't ignore the elephant in the room anymore
From hounding the directors to launching online petitions, fans of Jeremy Renner's Hawkeye are outraged over the shunning of their favourite superhero in Avengers: Infinity War promo material.
UPDATED ON APR 03, 2018 06:17 PM IST
It's time to address the elephant in the room. We've patiently stood by as two trailers and almost half-a-dozen TV spots of Avengers: Infinity War have come and gone, we've dissected the posters and we've overanalysed statements made by concerned parties, but no progress has been made. The question still lingers: Where is Hawkeye in Avengers: Infinity War?
The most recent round of marketing has made it clear: Marvel is deliberately keeping Jeremy Renner out of the promotional material for the film, touted as the most anticipated blockbuster of 2018. Film's directors Russo Brothers told Cinemablend that "Hawkeye's on his own journey in this movie." They elaborated: "He has a unique reaction to the Civil War situation that puts him in a special spot in this film."

Read: Avengers Infinity War directors say that the title for Avengers 4 will 'scare the sh*t' out of you
What the directors could be referring to is the growing reluctance Clint Barton has to avenging these days. Ever since the scene that introduced us to his family in Avengers: Age of Ultron, it has been implied that Barton intends to embrace his domestic life. His imprisonment along with Steve Rogers at the end of Captain America: Civil War might have been the final straw. At least that's what the Russos are implying with their statement. But the filmmakers are known to play around with audience expectations and fan theories - at the end of March they switched the header on their Facebook page to a fan-made banner that replaces all the Avengers' faces with that of Renner.
On Sunday, a tongue-in-cheek petition was launched on Change.org demanding 'a minimum of 2.5 lines' by Hawkeye in the next trailer.
Read: Salman Khan's action scene from Race 3 leaked and we can't take our eyes off guns, bikes and Bhai
Renner himself isn't entirely oblivious to this mystery either. Days before the latest trailer was unveiled, the actor shared a fan-made poster that replaced every character on the poster with Hawkeye. On Monday, he attended a fan convention where he posed with Thanos' infinity gauntlet. He shared that picture on Instagram too. Pay attention to the comments.
It should also be mentioned that no such outcry has erupted for the inclusion of Paul Rudd's Ant-Man, who has also been absent from the marketing so far. He, however, has his own solo movie coming out, which will likely witness a significant bump in ticket sales thanks to it coming out hot on the heels of Infinity War.
Here are some reactions to Hawkeye's absence on Twitter:
You can check out our Avengers: Infinity War coverage here.
Follow @htshowbiz for more

Close