Fans dressing up as It's Pennywise on Halloween will give you nightmares. See pics
Nov 01, 2018 10:15 AM IST
Twitter had a blast this Halloween, dressing up as Pennywise the clown from It. Some people even dressed up their children and pets as the murderous monster. Check out the best ones here.
Every year there is a breakout Halloween costume. It seems that this year it is the turn Pennywise the clown from the record-breaking horror movie, It. Several fans took to Twitter to share pictures and videos of their Pennywise costumes, with some people even dressing up their children and pets as the murderous monster on Halloween.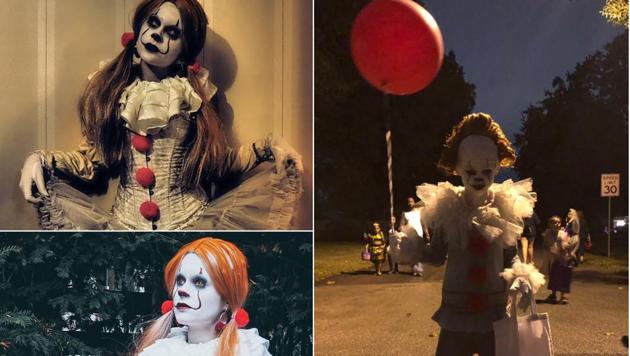 Warner Bros on October 31 also unveiled the first teaser poster for the film — it doesn't reveal much, besides the release date, September 6, 2019. The movie is currently filming under the direction of Andy Muschietti, starring James McAvoy, Jessica Chastain, Bill Hader and Bill Skarsgard as Pennywise.
As you can see from these pictures, some fans left no stone unturned in their Pennywise cosplay. While many of the costumes are rudimentary, some of them are quite intricate.
It - Chapter Two will pick up almost three decades after the events of the first movie, which told the story of a group of children haunted by an evil clown. The film went on to gross over $700 million worldwide, enough to make it the most successful R-rated horror movie ever.
Follow @htshowbiz for more