Popping my Star Wars cherry: My thoughts on The Phantom Menace
We are watching the original six Star Wars movies as a run-up to The Force Awakens which releases on Christmas Day in the country. Is the space-epic really as amazing as it is said to be? Here's our piece on Empire Strikes Back.
hollywood
Updated: Dec 22, 2015 15:57 IST
Star Wars: The Force Awakens released on December 18 everywhere in the world but China and India (you can thank Dilwale and Bajirao for that). While the rest of humanity is frothing at the mouth with excitement, we are here waiting for Christmas (it releases here on December 25). But hold on, we have something you can chew on meanwhile.
I have watched more movies than there are stars in the sky and I feel not a sliver of humility in making such a proclamation. However, I still have not watched some really big ones (incredibly ashamed as I make this confession) like the $4.6bn Star Wars space saga— a colossus of entertainment that so many works after it have stood upon to reach for their own heights.
Star Wars made me feel alienated. It hurts when you see online rants and understand none of them. Obsessives would fight over which lightsaber is the best as I would stand there waiting for the conversation to move to Harry Potter instead.
But no more! I will not endure another decade of cluelessness as others around me bask in the glory of the new Star Wars movie. I will try to be one of them. I will join the Force.
In a span of six days I will watch the six movies in the order of their original release and share my thoughts on them. There are a lot of different opinions on how one should watch the series but I feel it is best to follow the original sequence as time intended. Here is what I thought about Star Wars Episode I: The Phantom Menace.
Read: What I thought about A New Hope
Read: What I thought about Empire Strikes Back
Read: What I thought about Return of the Jedi
Thus begins the bad part of our journey and first things first, Jar Jar Binks is the absolute worst. The people were right, they were so right. I will get back to this later.
Character/Plot: Iconic or moronic?
Of all the six movies, this was the only one I had watched once before. Now I am not cheating because it was ages ago when I was no more than a baby and couldn't remember jack. The only thing I remember was that there was a blonde kid who made a disgusted face when his mom kissed him and that there was a race. That's it.
Meesa no like Jar Jar Binks. (Lucasfilm)
This time, however, the scars left by Jar Jar Binks are too ugly to let me forget anything. I always wondered what would the most hated movie character of all time be like and today I got my answer. Howa doin yousa expect missa to hear somone speak likein dis for hours? Missa wanna beatin him into a pulp. He is a colossal idiot who sounds like he is high on weed and low on IQ.
Some say that Jar Jar Binks was created to mint money so that creators could sell his merchandise and attract kids. Well it seems believable except even as a kid I would not have been able to like him the tiniest bit. How can you justify being so clumsy? Anakin told him to keep away from the beams of his pod and even then he somehow manages to numb his mouth AND jam his hand in the rotators. While the original movies made us laugh or giggle with Leia and Han flirting with each other or C3PO's nervous blabber, now we are expected to laugh on Jar Jar Binks getting his foot stuck in poop. I'd prefer my comedy to be more about words than actions, thanks very much.
Although, it would be wrong to blame Binks for everything that is wrong with this movie, as people often do. The action shifts from one location to another nothing ever happens. Jedi masters Obi-Wan and Qui-Gon Jinn have little fights hither-thither, Natalie Portman and Keira Knightly toss coins to decide who will be queen for each scene and one big load of counsel meetings. Anyway, there were only two things that I found to be the redeeming attributes of the film:
Red: the boy is free, blue: the mother. (Lucasfilm)
First, the pod race. Though I am totally not buying how Anakin could leave his mother behind for her to lead a life of slavery while he trains to be a Jedi. Now we know why Luke didn't care about his uncle and aunt's death, insensitivity runs in the family.
So the race was exciting and pretty well executed (two decades worth of technological advances made me expect no less), only made better with the good sound effects. Of course we were rooting for Anakin and of course he wins, no surprises there.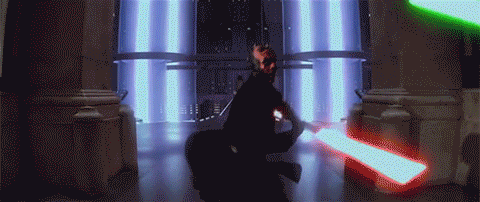 Second, the final fight with Darth Maul. While Darth Maul was not as fear-inducing as Darth Vader (how could he be, they didn't play the Imperial March every time he was in frame), he did know some grooves. He fought as if he was dancing and his dual lightsaber was definitely wicked. The fight scene between him, Qui-Gon and Obi-Wan was definitely the best choreographed fight scene in the series so far. Though having heard his name so often in general discussions, I had thought he would stay longer than just one movie. But now I have come to realise that Star Wars fans can make a big deal out of absolutely nothing (read Boba Fett).
Oh dead, oh dear! (Lucasfilm)
Back to the disappointments and the first thing that struck me was how sad and uneventful was C3PO meeting R2D2 for the first time. It was not an introduction suitable for one of the most iconic friendships in movie history. They merely exchanged some greetings, R2 pointed out that C3PO was naked and that was it! What a letdown.
Yes, let the sorrow flow through you Queen Amidala. (Lucasfilm)
Emperor Palpatine, who here is merely a senator here, sure looked like he had some really sinister motives brewing in his head but he did not really get down to doing anything evil.
Obi-Wan was nothing but a sidekick to Qui-Gon, who kills Darth Maul only in the final few minutes of the movie.
Is that Kiera Knightly? Or is that Natalie Portman? Don't know, don't care. (Lucasfilm)
The Padme-Queen Amidala-Padme musical chair was too much to bear after a certain point and I wanted it to stop already. She is no match to Leia in physical fighting but she did make some cerebral fights to save the people of Naboo. Maybe this is her way of being a heroine.
Weird, weird, weird. (Lucasfilm)
Speaking of Padme, her angle with Anakin is weird. I am told that they sort of become an item in the later movies but right now she looks more like his big sister than a romantic interest. I mean just look at them! So creepy.
Were any 'Forces' awakened?
Looks like we have begun our descent on this downward spiral and there is no going back. But here is something I want to share: While writing this piece, I was listening to the Imperial March and the Star Wars theme on YouTube to build the mood and also to keep me from falling asleep. While listening to the music I realised I have already started missing the original movies. Now don't read too much into it, it is most likely that I am just a fan of the brilliant music. Or am I getting converted into a fangirl?! Two more to go, we'll find soon enough.
Next up: What I thought about Attack of Clones
Follow @soumya1405 on Twitter.
First Published: Dec 22, 2015 15:28 IST