Popping my Star Wars cherry: What I thought about Return of the Jedi
Return of the Jedi is the last of the original three and my heart sinks at the thought of what the future holds.
hollywood
Updated: Dec 21, 2015 16:10 IST
Star Wars: The Force Awakens released on December 18 everywhere in the world but China and India (you can thank Dilwale and Bajirao for that). While the rest of humanity is frothing at the mouth with excitement, we are here waiting for Christmas (it releases here on December 25). But hold on, we have something you can chew on meanwhile.
I have watched more movies than there are stars in the sky and I feel not a sliver of humility in making such a proclamation. However, I still have not watched some really big ones (incredibly ashamed as I make this confession) like the $4.6bn Star Wars space saga— a colossus of entertainment that so many works after it have stood upon to reach for their own heights.
Star Wars made me feel alienated. It hurts when you see online rants and understand none of them. Obsessives would fight over which lightsaber is the best as I would stand there waiting for the conversation to move to Harry Potter instead.
But no more! I will not endure another decade of cluelessness as others around me bask in the glory of the new Star Wars movie. I will try to be one of them. I will join the Force.
In a span of six days I will watch the six movies in the order of their original release and share my thoughts on them. There are a lot of different opinions on how one should watch the series but I feel it is best to follow the original sequence as time intended. Here is what I thought about Star Wars Episode VI: Return of the Jedi.
Read: What I thought about Star Wars: A New Hope
Read: What I thought about The Empire Strikes Back
Characters/Plot: Iconic or moronic?
We are halfway through and apparently the 'great' part of this whole ordeal is over. Return of the Jedi is the last of the original three and my heart sinks at the thought of what the future holds. Well at least Episode VI left me with a good taste in my mouth and if I were give you a lowdown on how I felt about the Episode IV, V and VI, I would say that I did indeed enjoy myself.
Boba Fett: Like a Stormtrooper but greener and far less useless. (Lucasfilm)
After reading my reaction on Empire Strikes Back, a friend asked me how could I have not talked at all about Boba Fett and Lando? I told him that for a first time watcher, who is just being introduced to the movies, Boba Fett and Lando are nothing but side characters. I didn't pay much attention to them while writing the reaction but later, just to know what the big deal is, I googled Boba Fett and found pages after pages telling of his past life, training, family and what not.
That was when I realised that this franchise is something way bigger than just these three or six movies. Over time, video games, cartoon series, spin-off, books and fan-fictions have made it what it is today. Now I cannot claim to read, watch or follow all of that in a matter of days and therefore am not eligible to join the fandoms. However, I can just watch the movies and decide for myself whether this space-epic universe seems inviting enough to me or not.
Anyway let's stop strolling on that tangent and come back to Return of the Jedi. While the opening sequence of The Empire Strikes Back seemed drab and unnecessary to me, the whole episode with Jabba the Hutt was one of the movie's best offering.
Row, row, row your pod to the Saarlac pit! (Lucasfilm)
We get to know that Luke is not a noob anymore and becoming more and more a Jedi. He is more subtle, more powerful which is reflected in everything from the way he talks to the way slowly swims in and out of frames as if he is floating and not walking. He rescues his friends from that massive slug and his confidence doesn't dwindle for a moment. Now that's what you expect from a hero.
Ee chee wa maa! Yaa-yaah yub yub! (Lucasfilm)
Leia too manages to redeem herself by showing her heroine-like qualities. She goes out to rescue Han and even kills Jabba by herself, in a bikini. That bikini though, I totally understand all the hype around it. She is no longer just sitting in the backseat. She is riding bikes, killing Stormtroopers, making friends with other alien tribes, because she is a princess after all.
Stop flirting Han and look behind you! (Lucasfilm)
Han is witty and adorable as always but it is Luke who outshines him this time. I actually cannot recall many moments where Han was at the centre of action. He got jealous of Leia and Luke and was mostly playing accessory to all that was happening.
Rest, you must. Dying, you are. (Lucasfilm)
Another good thing that happened was that this movie gave me a new-found respect for Yoda. While in the last one I just could not take him seriously enough, in this one, he was calmer, saner and just the way I would like a Jedi master to be. Maybe dying did him good.
Yes, let the hate flow through you. (Lucasfilm)
Now to the villains. Well apparently the real scum of the series was not Darth Vader, it was that lizard-faced General. That twerp was full of so much evil, had it not been for him maybe Vader, Leia and Luke would have been a happy family.
I am not crying, you are crying! (Lucasfilm)
Darth Vader had a Professor Snape moment when we realise that he was trying to fight his evil side all his life but failed every time. But when it came to saving his son, he could not take it anymore. *Sniff* Who doesn't love a story of a bad guy turning good?
Ewoks were cute, from afar. (Lucasfilm)
Honorary mention: The Ewoks were no doubt adorable (don't even get me started on the baby Ewoks) but their presence during the climax made it feel like it was not just Luke, Leia or Han's war. Other species and planets wanted to be rid of the Empire's oppression as well.
Another honorary mention: This guy.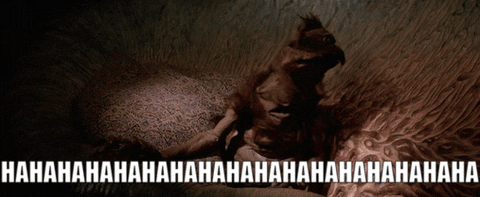 Totally posting this gif on everyone's Facebook wall. This is my go to lol meme.
Were any 'Forces' awakened?
So the ranking goes: A New Hope > Return of the Jedi > The Empire Strikes Back. As much as I am scared for my life as I make this statement, I am not a fan of this series. There are indeed a few things that will make me want to watch it on TV if I ever come across it. I'll watch it for Darth Vader's theme, Leia and Han's chemistry and R2D2 and C3PO's bromance. But nothing more. And I have been told that I will be a downhill ride from here on. Well all is worth it if Episode VII is good.
Next up: What I thought about Phantom Menace
The author tweets as @soumya1405.
First Published: Dec 21, 2015 13:37 IST