The Ghostbusters trailer is here! We know who we're gonna call
The first trailer for the Ghostbusters reboot starring Kristen Wiig, Kate McKinnon, Leslie Jones and Melissa McCarthy is here!
hollywood
Updated: Mar 03, 2016 20:19 IST
The Ghostbusters are finally here! Paul Feig's reboot has been threatening a trailer for what seems like months now, and today is our lucky day. Here it is.
The first thing that jumps out to us, much like that slimy projectile barf, is that the tone of this new movie is pretty much spot on. From the very first frames, you're instantly transported back to the original.
Watch the trailer here
The trailer introduces us to the new cast, led by the very talented Kristen Wiig. She's joined by SNL's Leslie Jones and Kate McKinnon. Rounding off our new team, no pun intended, is the hilarious Melissa McCarthy. And we all know about Chris Hemsworth's secretary don't we? Well, he's there too.
Each of them has a specific skill that they bring to the table and they're united by a sense of duty. Like Spider-Man, they want to use their 'powers' for good. We don't know about you, but this immediately makes us root for the new cast. Since this movie is set in the present day and doesn't overtly make any references to the original, it kind of makes us wonder how they're going to explain all those not-so-secret cameos they've got lined up (Slimer not included). But the 2016 money sure looks good. The film looks like a summer blockbuster to rival some of those big superhero ones.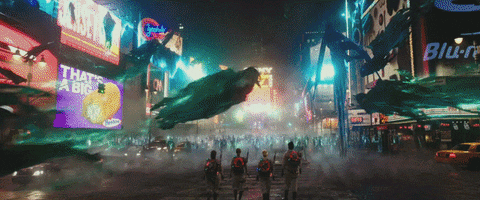 What makes us excited (and relieved) about this new Ghostbusters is that it looks like a blast. There's obvious chemistry between the leads, the jokes (thankfully) land, the action and effects don't look dated and cheesy. To say nothing of the all the racial and gender barriers it has broken. All in all, July 15 couldn't get here quicker.
Read: Salman, Aamir and I should do a film like Ghostbusters: SRK
Follow @htshowbiz for more
First Published: Mar 03, 2016 20:18 IST