This is what Priyanka Chopra discussed with 'charming' Barack Obama
Updated on May 02, 2016 03:20 PM IST
Priyanka Chopra had a great talk with US President Barack Obama and First Lady Michelle. She has also promised to be a part of girls' education programme run by the couple. We tell you more.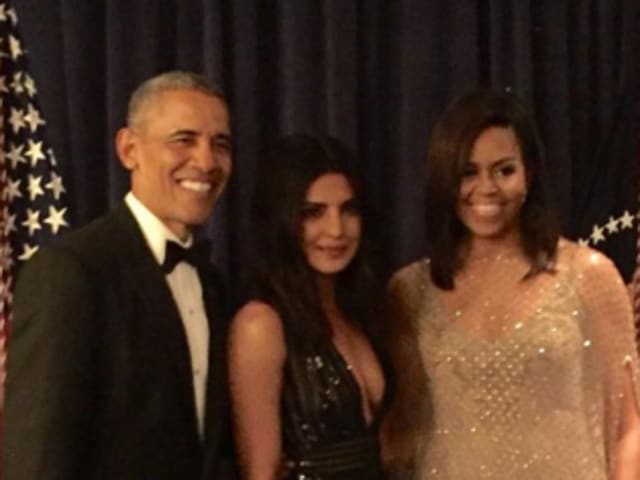 Wondering what Priyanka Chopra discussed with US President Barack Obama and First Lady Michelle at the White House Correspondents' Dinner on Sunday? Well, the Bollywood star who is busy filming her Hollywood debut Baywatch has spilled the beans.
The 33-year-old actress, who found global recognition with her character Alex Parrish in the American TV series Quantico, shared a photograph of herself along with the two. "Lovely to meet the very funny and charming Barack Obama and the beautiful Michelle Obama," Priyanka captioned the photograph.
The US President looked dapper in a black suit and crisp white shirt which he teamed with a black bow tie, while Michelle looked lovely in an embellished beige gown. "Thank you for a lovely evening. Cannot wait to start working on your girls education program," Priyanka added.
Read: Priyanka Chopra goes full glam at Obamas' White House dinner
The education programme that Priyanka alluded to is Michelle's initiative and is called 'Let Girls Learn'. It aims to empower 62 million girls worldwide, who at present do not go to school, so that they can get their education. The US President is also a passionate supporter of the cause.
Launched in 2015, it funds community girls' education projects like girls' leadership camps and school bathrooms; educating girls in conflict zones; and address poverty, HIV, and other issues that keep girls out of school.
The 2016 White House Correspondents' dinner, which was President Obama's last in office, was hosted by comedian Larry Wilmore. The annual fund-raising gathering of White House correspondents and their guests was also attended by the likes of Hollywood stars Kerry Washington, Emma Watson, Will Smith and wife Jada Pinkett, Michelle Dockery and Kendall Jenner.
To justify the 'funny' tag that Priyanka gave to Obama, here's a list of the funniest jokes from US' comic-in-chief for the evening…
On Republican frontrunner Trump
"The Republican establishment is incredulous that he's their most likely nominee. They say Donald lacks the foreign policy experience to be president. But in fairness he has spent years meeting with leaders from around the world: Miss Sweden, Miss Argentina, Miss Azerbaijan."
On Democrat candidate Hillary Clinton, referring to her highly-paid speeches to Goldman Sachs
"Here we are, my eighth and final address at this unique event, and I am excited. If this material works well, I'm going to use it for Goldman Sachs."
On "Aunt Hillary"
He also called her "Aunt Hillary," as at one point he virtually endorsed her candidature. "Next year someone else will be here, guess who she will be?" he said amidst laughter. Clinton is the only women contender in the race to the White House."
He ended his gig by dropping the mic and saying: "Obama out."