Why do women eat last? Understanding gender bias in India
Sep 02, 2021 07:23 PM IST
This piece has been authored by Parvinder Singh, Head- Communications for World Food Programme India
As the world continues to struggle with the negative impacts of the Covid-19 pandemic, there is an urgent need to find ways to improve and realign programmes focused on addressing the huge nutritional disadvantages that girls and women face, especially among the poor and marginalised social groups.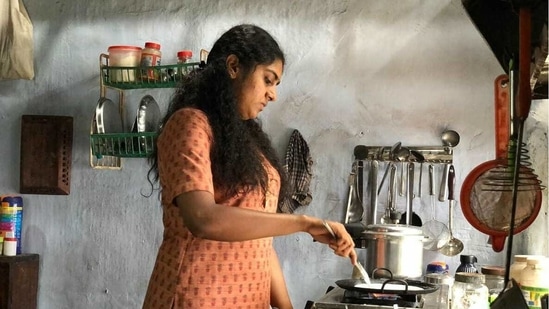 A substantial body of research and anecdotal evidence is emerging that confirms the lived and intuitive observations that the pandemic shock has exacerbated the situation for girls and women.
Though India's food safety nets reach millions of vulnerable households to ensure better access to food yet decisions on how that food is shared amongst household members determine individual food and nutrition security and are dictated by prevailing social norms, which are often biased against women and girls.
Primary research was done by the United Nations World Food Programme and a state-level NGO SAMARTH in Uttar Pradesh focused on two districts, provides insights for understanding the norms and practices that govern food distribution and consumption within the household and assess how they influence food consumption by members, particularly women and girls.
The study 'Who Eats When What and How Much?' provides significant household-level insights and makes recommendations to move towards addressing these deep and entrenched challenges.
Gender-based food taboos and restrictions
Food taboos, especially around menstruation and pregnancy are still very present, and many are quite harmful to women.
"The research that included a survey of four hundred households, besides focus group discussions, in-depth interviews with community women and interviews with community health workers, among others showed that most food taboos and restrictions were associated with women and children, particularly pregnant women, adolescent girls, and young children," says Dr Aradhana Srivastava, Gender Officer with WFP in India, and the lead for the study.
The social norms against various food items run deep as the women surveyed themselves provided anecdotal evidence to reinforce these biases.
"Once I had papaya during my pregnancy I liked papaya a lot and one day I had the only papaya. Then suddenly I started feeling uneasy and started bleeding," said a community woman from Fatehpur.
In rural areas, most surveyed women suggested that pregnant women should avoid eating dry fruits. Eating coconut was recommended as it was believed to make the child fairer.
Restrictions on the consumption of fruits (banana, papaya, jackfruit, coconut), vegetables (brinjal, leafy vegetables), meat, fish, and eggs during pregnancy were considered necessary to prevent miscarriage, promote easy delivery, and prevent foetal malformations.
"If a pregnant lady eats less the baby will not grow too large. Also, eat fewer fruits otherwise, the baby grows in size, and then it is difficult to deliver," said a frontline worker in Fatehpur.
"The research highlights that there needs to be long-term engagement on enhancing nutrition education and awareness among all community members, particularly on the nutrition of young children, adolescent girls, and pregnant and lactating women. These norms and taboos place girls and women at a tremendous disadvantage, reducing their dietary diversity," Dr Srivastava added.
Changing norms, yet women sacrifice food for their family
Household roles concerning food are well-defined --- male members are responsible for bringing food from the market and women are responsible for cooking and serving the food.
"Though women cook the food, yet it is the husband or children or the elderly (especially men) in the household who eat the food first in more than two-thirds of the households. Women are the last to eat after all have had their fill. This was reported by more than two-thirds of the households in Lucknow and 85% of the households in Fatehpur. These findings were more pronounced in Fatehpur because it is more rural and traditional," concludes the research.
If a 'special food item' is prepared or brought to the household, like sweets, then again, they are served first to the men and children, and at the end, women take whatever is left. The perceptions around the amount of food consumed by household members also favour men, as women believe that men deserve a larger share, being the breadwinners of the family.
"A woman only stays home the entire day, while the man has to go out to work. He should get the larger share [of food]." – Women's FGD, Lucknow
The study also reveals quite worryingly that pregnant and lactating women are also subjected to the same norm of 'eating last', thereby affecting their food consumption. Men and women both do not perceive this as a discriminatory practice - women both accepted and justified the practice.
In poor and vulnerable households, the male members are given preference in terms of food quantity, eating order, and consumption of special foods – all at the cost of the women's consumption.
Women can eat 'with' or 'after other family members, but it is still considered disrespectful by families if they eat 'before' others.
The social norm of women eating last is changing. The situation has improved over the years, but there is still a lot of work to do for achieving equity in intra-household access to food.
Increasingly, women are eating with other family members. However, the mindset that women must sacrifice food for other family members continues to be seen among several families.
Traditional norms are gradually changing with growing education and urbanization and improving incomes. An increase in women's work participation, particularly among the urban poor, is also a key factor.
The community health workers (AWW, ASHA and ANM) have played a key role as change agents in bringing about desirable behavioural changes in the traditional system of food distribution within households.
Changes in mindset/behaviour/attitudes are more pronounced in urban, better educated, and nuclear households, compared to others.
Key recommendations as a way forward
Behaviour change is necessary but not easy. More work can be done to educate men, women, boys and girls on equal distribution of food within the household and the importance of eating together.
These food taboos and unequal access to food within a household can have a negative effect on the health and wellbeing of women, especially in their childbearing years.
The study findings underscore the need for community education and social behaviour change communication to give equal priority to women's nutrition. There is a need to enhance nutrition education and awareness among all community members, particularly on the nutrition of young children, adolescent girls, and pregnant and lactating women. The higher risk of women's undernutrition in poor households points to the need for special nutrition programs for women in high-poverty populations.
Men also need to be involved for sustainable social change. They must be sensitized on enabling women the freedom to purchase their preferred food items, encouraging the family to eat together, ensuring equal sharing of food between family members, and taking care of women's nutrition needs during pregnancy & lactation.
The study has been accessed by clicking here.
(This piece has been authored by Parvinder Singh, Head- Communications for World Food Programme India)