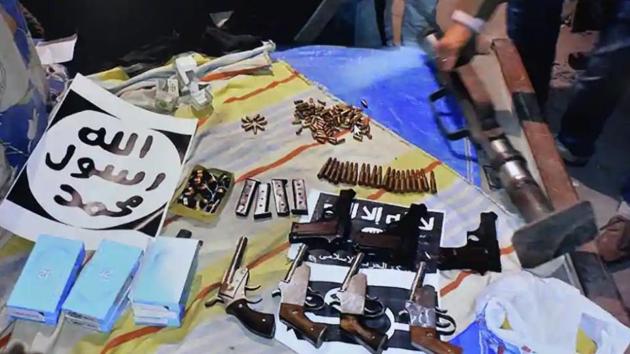 Handler in AfPak region gave orders to ISIS terror group that plotted bombings
The NIA arrested the suspects from Delhi, Amroha, Lucknow and Meerut after carrying out searches at 17 locations across the Capital and Uttar Pradesh on Wednesday morning, after tracking the group for at least four months.
UPDATED ON DEC 27, 2018 11:56 PM IST
A Delhi court on Thursday sent 10 persons, arrested the previous day on suspicion of being part of an Islamic State-inspired module, to 10 days in police custody even as more details emerged of the so-called Harkat-ul-Harb-e-Islam and the way the National Investigation Agency (NIA) tracked it down.
An NIA official familiar with the matter said the group seemed extremely radicalised and highly motivated, but questioned its ability to carry out an attack of the scale it was planning.
While the almost primitive nature of the weapons and explosives seized have attracted comment, other security officials point out that these could have been effectively used to at least spread chaos and distract security forces, both key objectives of terror groups.
NIA's crackdown was appreciated by senior ministers. "Well done NIA for cracking the dangerous terrorist module," finance minister Arun Jaitley tweeted.
"Would this crackdown of the terrorist module by NIA have been possible without interception of electronic communications?"
His reference was to an order on such monitoring that was issued last week and turned controversial.
Home minister Rajnath Singh said: "It is a big success and I congratulate NIA."
NIA on Wednesday searched 17 locations — six in East Delhi's Jafarabad area, six in Uttar Pradesh's Amroha, two each in Lucknow and Hapur and one in Meerut — and arrested 10 suspects; it said the suspects were planning major strikes, and targeting senior Rashtriya Swayamsevak Sangh (RSS) and Bharatiya Janata Party (BJP) leaders.
A country-made rocket launcher, 12 pistols, 112 alarm clocks, 100 mobile phones, 135 SIM cards, many laptops and various electronic gadgets, besides 150 rounds of ammunition were also recovered during the searches. The NIA also seized 25 kg of explosive material, such as potassium nitrate, ammonium nitrate, sulphur, sugar material paste, mobile phone circuits, batteries, 51 pipes, a remote control car triggering switch, wireless digital doorbell for remote switch, steel containers, electric wires, IS-related literature and ₹7.5 lakh in cash.
"The module primarily used an encrypted chat application, Threema, and received instructions from a handler based in the Af-Pak region," a senior official in the security establishment said on condition of anonymity. The Threema application does not require a phone number to communicate. The identity of the person who was in touch with the group from the Af-Pak region is yet to be established.
"Mufti Mohammed Suhail appears to be the top dog of the group who had gathered together the others," the first NIA officer said. Suhail is a native of the Jafarabad area of north-east Delhi who became a cleric at a mosque in Amroha.
Security agencies appear to have been tipped off after the group made an attempt to buy ammonium nitrate, a compound that can be also used to make incendiary devices. Security agencies, including the NIA, mounted surveillance, which included monitoring activity of the group on the internet and phone communications.
They also infiltrated the group, HT learns, getting members to feel secure and reveal their plans, a second security official said on condition of anonymity.
Rashid Zafar, one of the 10 suspects who was arrested, was asked to procure the chemicals, initial investigations have revealed.
An official of the Uttar Pradesh Anti-Terrorism Squad (ATS), who spoke on condition of anonymity, said a 45-year-old woman and her 17-year-old son, who were questioned twice on Wednesday, were again quizzed on Thursday over possibly helping the alleged mastermind with accommodation in Lucknow.
Topics
Close