Bus carrying 22 college students from Ranchi overturns in Sikkim
Jun 28, 2022 05:37 PM IST
Sixty nine students from the college were on an excursion, said the Sikkim police. They reached Sikkim on June 23
Twenty-six people, including 21 students and two teachers from St Xavier's College, Ranchi in Jharkhand were injured on Tuesday when the bus in which they were travelling met with an accident on the outskirts of Gangtok in Sikkim after the brakes of the vehicle apparently malfunctioned, local police said.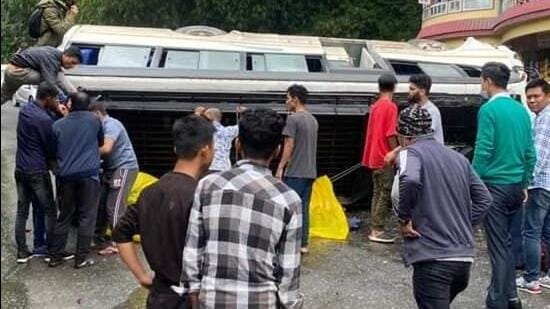 "Some of the passengers need to undergo tests as their injuries may be critical," Tenzing Loden Lepcha, Gangtok Superintendent of Police, said.
Two local people and the driver of the bus were also injured.
Sixty nine students from the college were on an excursion, said the Sikkim police. They reached Sikkim on June 23.
On Tuesday, the students were en route to Siliguri in West Bengal in three buses. They were scheduled to board a Jharkhand-bound train from New Jalpaiguri station in the evening.
Lepcha said one of the buses, carrying 21 students and two teachers, skidded off the road and landed on one side near the administrative building of the Sikkim Central University at Ranipool. The injured people were rushed to a local hospital. The doctors told the police that some of them needed medical tests as they may have sustained internal injuries.
Jharkhand chief minister Hemant Soren wrote on Twitter that he had spoken to Sikkim chief minister Prem Singh Tamang in connection with the accident.
"I've spoken with the Sikkim CM. Adequate arrangements are being made for medical treatment of the children. I've directed RC to be ready to airlift the children. We are unable to airlift them right now due to inclement weather. So arrangements have been made there," tweeted Soren.
Jacob Khaling, political secretary to the Sikkim chief minister visited the hospital. "Our chief minister is personally monitoring the situation and all arrangements, including treatment for the injured, will be provided by the Sikkim government. The two other buses left for New Jalpaiguri station with Sikkim police officers on board," he said.
Akshay Sachdeva, additional director general of police (law and order), Sikkim, said: "Preliminary investigation revealed that the driver of the bus applied his presence of mind and tried to do his best. Otherwise, the accident could have been fatal. The driver was also injured."